News
'Drive for Design' Contest Challenges Students to Sketch an Electrified Jeep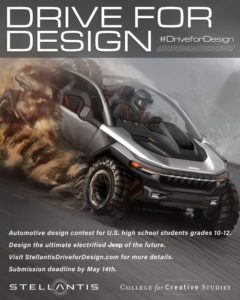 Without a nudge from an art teacher, a visit to an art school or just plain luck, some of the world's top automotive designers may never have made their mark in automotive design history.
Mark Trostle, head of Ram Truck and Mopar Design at Stellantis, wants to change that. Nine years ago, he revived a contest he won as a high school student that helped drive him to where he is today: leading the design efforts for some of the most desired vehicles on the road.
The 2021 Drive for Design contest challenges U.S. high school students in grades 10-12 to sketch an electrified Jeep vehicle of the future. Three students will be named winners from all valid entries received by the May 14, 2021 deadline.
"Since the contest began nine years ago, we've been able to connect and help many young artists establish a career path in automotive design," said Trostle. "In fact, we've had previous contestants as summer interns and recently we hired a former winner who is now working in one of the design studios. Regardless of where these students ultimately land, it's rewarding to our team to be able make an impact on someone's career."
Three sketches will be selected, and the winning artists will receive a virtual day of design with leading designers at the Stellantis Design Studios, as well as Wacom and Apple products and a scholarship to attend a four-week summer program at the College for Creative Studies (CCS) in Detroit. The CCS summer program curriculum includes the fundamentals of gestural sketching, drawing automotive concepts in perspective and how to translate designs into 3D models.