News
Drag Racers to Headline PRI Women in Motorsports Seminar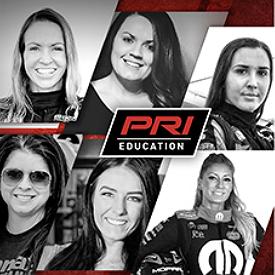 Top Fuel driver Leah Pritchett of Don Schumacher Racing has joined the panel for PRI Education's 4th annual Opportunities for Women in Motorsports seminar at the 2019 Performance Racing Industry Trade Show in Indianapolis.
Also appearing on stage will be drag racer Alex Taylor of Alex Taylor Racing, drag racer Lea Ochs of The Lead Sled, and off-road racers Sarah Burgess and daughter Bridget Burgess of BMI Racing. Jeanette DesJardins of Car Chix and Crank It Media will moderate this exclusive session, which takes place from 8-9 a.m. on Friday, December 13, in Room 231 of the Indiana Convention Center, site of the 32nd annual PRI Show.
Led by DesJardins, panelists will discuss challenges, triumphs, lessons learned on and off the track, and opportunities for women interested in pursuing a career in racing. Attendees will also better understand how to market to, engage with, and raise awareness among young women in the world of motorsports. In addition to the panel discussion, time will be set aside for audience Q&A.
This year's PRI-sponsored seminars are presented free of charge for all registered Show attendees and exhibitors.