News
Dodge Roadkill Nights Opens This Weekend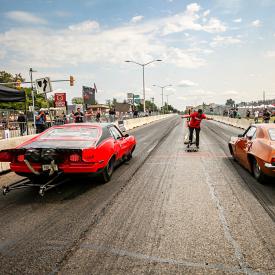 Roadkill Nights Powered by Dodge will be happening Friday and Saturday this weekend at the M1 Concourse in Pontiac, Michigan.
The drag racing and car festival is bringing back legal drag racing on Woodward Avenue and will include even more experiences including thrill and drift rides in the 717-horsepower Dodge Challenger SRT Hellcat and the 707-horsepower Dodge Charger SRT Hellcat models.
Friday evening will give fans the opportunity for an up close look at the race cars that will tear up Woodward Avenue on Saturday. In addition, there will be a burnout contest, free Dodge drift rides, live music, celebrity meet-and-greets and freestyle motocross stunt shows.
On Saturday, street-legal drag racing on Woodward Avenue begins with two classes, Big Tire and Small Tire, competing for a cash purse of $30,000. As part of the overall $40,000 purse, $10,000 will be donated to The United Way.
Both drag racing classes will have the same payout structure with $15,000 as the total purse per class. As part of the overall $40,000 purse, $10,000 will be donated to The United Way.
Winner – $5,000
Runner up – $1,500
Semi Finalists – $750 (two payouts)
Quarter Finalists – $500 (four payouts)
Fastest Dodge-powered vehicle – $5,000
Additional event activities include:
Exhibition runs with Leah Pritchett in her Angry Bee Mopar Dodge 1320 Top Fuel car and Matt Hagan in his Dodge Charger SRT Hellcat Widebody Funny Car
A special celebrity showdown drag race with a $10,000 prize purse benefitting The United Way
Sheriff Showdown: Macomb County's Sheriff Wickersham and Oakland County's Sheriff Bouchard will compete in an old-school grudge match on Woodward Avenue on Saturday, each driving a 2019 Dodge Challenger SRT Hellcat Redeye with respective County decals
Celebrity appearances by MotorTrend's hugely popular series Roadkill co-hosts David Freiburger and Mike Finnegan; Chris Jacobs of MotorTrend's Overhaulin'; Brian Lohnes of the NHRA; Cristy Lee, Faye Hadley and Bogi Lateiner of All Girls Garage; Bill Carlton of Texas Metal; Joe Martin, Amanda Martin and Jayson "Shag" Arrington of Iron Resurrection; Dave Kindig and Kevin Schiele of Bitchin' Rides; Jared Zimmerman and Lou Santiago of Car Fix; Steve Magnante of Roadkill's Junkyard Gold and Barret-Jackson Live; Bill Goldberg and Matt D'Andria
Freestyle motocross and street bike stunt shows
Dodge Challenger SRT Demon simulators
Dodge Charger SRT Hellcat Widebody and Challenger SRT Hellcat Redeye on display, along with more than 400 vehicles in the Show 'n' Shine
Dyno runs
General admission for spectator tickets is $10 per person, per day; $5 per person for Pontiac, Michigan residents (available on-site only). Two-day passes are available for $20. Children 12 and under are free.
Schedule
Friday, Aug.  9
9:30 a.m.  Gates open to media
11 a.m.  Dodge drift and thrill rides
11:30 a.m.  Lunch available
3 p.m.  Gates open to the public -" event begins, including burnout contest, dyno competitions, free Dodge drift rides on skid pad, Dodge simulators, freestyle motocross stunt shows, food and beer trucks, family-fun Kids Zone
9 p.m.  Event concludes
Saturday, Aug. 10
10 a.m.  Gates open to the public. Events available include photo opportunity as muscle, vintage and classic cars enter the event to set up for Show 'n' Shine; Dodge Challenger and Charger SRT Hellcat thrill and drift rides; dyno testing
11 a.m.  Drag racing begins with open qualifying session; can be viewed via livestream at dodgegarage.com
11:30 a.m.  Freestyle Motocross show behind the bleachers
4 p.m. Open drag racing qualifying concludes
4:15 p.m. Leah Pritchett and Matt Hagan Top Fuel exhibition burnouts on Woodward Avenue
4:45 p.m. Celebrity shootout begins on Woodward Ave.
5:45 p.m. Top eight shootout driver announcements
6 p.m. Sheriff Showdown
6:30 p.m. Flamethrower & wheelstander exhibition run
8 p.m. Freestyle motocross show
8:30 p.m. Top eight shootouts begin for small tire & big tire drivers
9 p.m. Top eight winners awards ceremony