News
Dodge Direct Connection, Jay Leno Launch Line of Car Care Products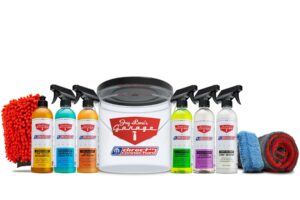 Television host and comedian Jay Leno and Dodge Direct Connection have launched a new line of co-branded car care products, the company announced.
The new line will feature more than 20 car detailing and car wash products under the Direct Connection/Jay Leno's Garage banner, including Direct Connection quick detailer, Direct Connection interior detailer, Direct Connection all-purpose cleaner and more products. A branded Direct Connection detailing bucket will also be sold with a starter kit selection of car care items, the company said.
"When it comes to really caring about and maintaining the most amazing vehicles in the world, there's really no one better to team up with than Jay Leno," said Tim Kuniskis, Dodge brand chief executive officer, Stellantis. "Jay's a member of the Brotherhood of Muscle, and we couldn't be more excited to join together our Direct Connection brand with Jay Leno's Garage in order to introduce a premium new line of co-branded car care products for enthusiasts."
"When you think of legendary American automobiles, Dodge instantly comes to mind. And now, with a little help from Jay Leno's Garage car care, we're ensuring these beauties don't just run great, they look great too," said Leno. "You know, in my years around cars, it's all about authenticity and the passion behind it. Dodge's new Direct Connection website is a game-changer! For every Dodge owner out there, it's the place to snag those OEM-certified parts and supplies to ramp up your ride with genuine performance upgrades. If you're looking to give your Dodge the royal treatment it deserves, look no further. And hey, while you're sprucing up the performance, don't forget to make it shine with a little help from Jay Leno's Garage car care."
The new car care products will be offered exclusively at DCPerformance.com, the company said.