News
Dodge to Auction Horsepower History for Charity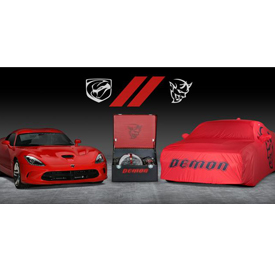 Dodge//SRT and Barrett-Jackson will offer two milestone vehicles during the Barrett-Jackson Northeast auction, set for June 20-23 at the Mohegan Sun Resort in Uncasville, Connecticut. The offering includes the last unit of the limited-production 2018 Dodge Challenger SRT Demon and the last 2017 Dodge Viper-auctioned as a pair. All of the proceeds from the sale will go to United Way.
The winning bidder will take home a combined 1,485 horsepower. The 840-horsepower Dodge Challenger SRT Demon is a street-legal production drag car with a powerful production V-8 engine and 20-plus drag-performance features. The 645-horsepower Dodge Viper has a 8.4L V-10 engine and features aerospace-grade, lightweight carbon fiber body, iconic side exhaust and 14-inch wide rear tires. Both cars will be offered in the exclusive Viper Red exterior color-production code LRN-as the last of their kind.
"We couldn't be more excited to team up with Dodge for another significant sale," said Craig Jackson, chairman and CEO of Barrett-Jackson. "Over the years, Barrett-Jackson has reached incredible milestones with Dodge, including the sale of a 2015 Dodge Challenger SRT Hellcat (VIN 001) that raised $1.65 million at our 2014 Las Vegas Auction to benefit Opportunity Village Foundation."
The 2018 Dodge Challenger SRT Demon debuted at the 2017 New York International Auto Show and grabbed attention with its 840-horsepower rating and street-legal drag radial tires. Its records include first front-wheel lift in a production car, certified by Guinness World Records, and world's fastest quarter-mile production car (9.65 seconds ET/140 mph), certified by the National Hot Rod Association.
Production of the Challenger SRT Demon is limited to one model year and a total of 3,300 units-3,000 in the U.S. and 300 in Canada. In addition to the Viper Red exterior color, the last production 2018 Dodge Challenger SRT Demon includes:
Black interior with cloth/Alcantara leather seats
Front passenger seat
Rear seat delete
Trunk carpet kit
Custom Demon car cover
VIN instrument panel badge
Demon Authentication package (build sheets and Certicard)
Demon Crate, which includes narrow front-runner drag wheels, performance powertrain control module with high-octane engine calibration, replacement switch module with high-octane button and a set of Demon-branded track tools
Production of the American hand-built V-10-powered Dodge Viper concluded at the Conner Avenue Assembly Plant in Detroit in the fall of last year. The last production 2017 Dodge Viper is styled in homage to the first-generation Dodge Viper RT/10 with its Viper Red exterior and black interior. The car (VIN ending in 731948) includes exterior carbon fiber accents, black Alcantara leather seats and an exclusive VIN instrument panel badge and authentication kit.