News
Dixie 4 Wheel Drive to Host Off-Road Vendor Show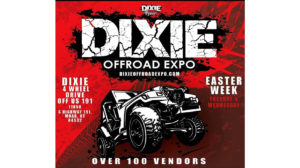 Dixie 4 Wheel Drive, with help from Unofficial Use Only and Moab 4×4 Expo, will be hosting the first Dixie Offroad Expo during Easter Jeep Safari in Moab, Utah, the off-road shop announced.
The Dixie Offroad Expo will be held at Dixie 4 Wheel Drive's Moab location in San Juan County. Utilizing acres of its own and neighboring private properties, Dixie 4 Wheel Drive will host 100-plus vendors during the two-day show, scheduled for March 30-31 from 9 a.m. to 5 p.m. each day. Admission is free to the public and attendees can preregister online. The expo will operate according to Utah state COVID-19 guidelines, organizers said.
"We are all overdue for some great off-road events to get underway," said Tara Thompson, Dixie 4 Wheel Drive's General Manager.
Click here for more information.