News
Digital License Plates Become Reality in Michigan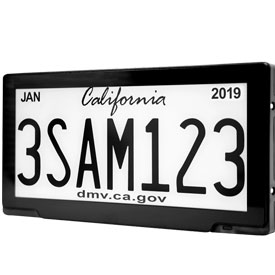 The Michigan legislature has passed a bill enabling digital license plate technology in the motor state. This technology offers a digital alternative to 125-year-old stamped metal license plates.
Reviver Auto, the creator of a digital license plate called Rplate, will work with Michigan's newly-elected Secretary of State Jocelyn Benson to roll the plates out to interested users.
The Rplate launched on roads in California in June. The product features a digital, high-definition display and the ability to automate vehicle renewals, replace legacy stickers with digital decals, and add new levels of personalization to the license plate. The Rplate also enables stolen vehicle and plate detached information, as well as geo-fencing capabilities for business and/or governmental entities.
Future Rplate features include Amber and weather alerts, automated parking, trips taken, vehicle miles traveled and marketing capabilities and much more, according to Reviver Auto.
Michigan is the first state in the nation to enact a law to allow implementation of digital license plates. The legislation coincides with the upgrading of internal systems at Michigan's Department of State, which will provide effortless integration with the Rplate technology, according to the company.
Reviver Auto is also partnering with Michigan-based The Pink Fund to create a Pink Fund-branded digital license plate, as well as digital Pink Fund logos for the Rplate, all of which will help raise funds to support the organization's mission of providing financial support to help meet basic needs, decrease stress levels and allow breast cancer patients in active treatment to focus on healing while improving survivorship outcomes.
Rplate, which is currently on the road in California, is anticipated to expand into new states in 2019. The use of digital license plates is fully authorized for Arizona; similar legislation has passed in Texas and Florida. Washington is slated to conduct a digital license plate study.
In addition, Reviver Auto has launched an initial program in Dubai, UAE for a proof of concept in partnership with the Dubai Roads and Transport Authority.
The Rplate is available in California through participating auto dealerships, pro shops such as Al & Ed's Autosound.