News
Detroit Speed Open House Returns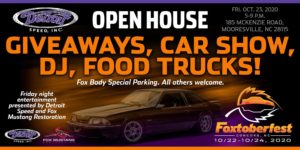 The Detroit Speed Open House is returning in 2020, the company has announced, in anticipation of the release of its 1979-1993 Fox Body Mustang products.
Detroit Speed will be partnering with Fox Mustang Restoration and Foxtoberfest to host the event, set to be held Oct. 23  in Mooresville, North Carolina.
There will be designated Fox Body parking, however, all classics and hot rods will be welcome. The event will feature a DJ, giveaways and new for 2020, food and dessert trucks on site.
Click here for more information.