News
Detroit or Bust: Collector Cars on 10-Day Road Tour to NAIAS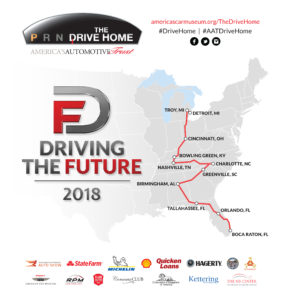 Vintage cars are on their way from Florida to Detroit in time for the North American International Auto Show.
America's Automotive Trust and NAIAS kicked of The Drive Home III: Driving The Future Jan. 3 in Boca Raton.
Similar to previous events in The Drive Home series, the caravan will be made up mainly of vintage automobiles. However, this year's convoy has grown to also feature a pair of modern vehicles-a Triumph Thruxton provided by Ace Cafe Orlando, and a 2018 GMC Terrain support vehicle.
"The past two events in The Drive Home series included three cars from America's Car Museum, so we're thrilled that the number of participating vehicles this year has more than doubled," said David Madeira, AAT vice chairman. "We're extremely fortunate to have such a robust list of sponsoring organizations that share our vision of a vibrant future for collector cars. The vintage and modern vehicles joining us this year as we make our way from Florida to Detroit is truly second to none."
Participating organizations and their vehicles include:
America's Automotive Trust – 2014 Triumph Thruxton
LeMay – America's Car Museum – 1972 Chevrolet El Camino
RPM Foundation – 1969 Chevrolet Camaro SS Sport Coupe
Club Auto/Hagerty – 1962 International Travelette
Concours Club/MFD Classic Motors – 1959 Plymouth Fury
Concours d'Elegance of America/Kettering University – 1959 Cadillac Coupe DeVille
The Nicola Bulgari Center for American Automotive Heritage – 1955 Chrysler C-300 Sports Coupe
General Motors – 2018 GMC Terrain Support Vehicle
Presenting sponsor State Farm and supporting sponsors BFGoodrich, Shell, Quicken Loans, Hagerty and Montecristo recommitted for this year's rally, participating in special events, enthusiast gatherings and promotions during the trip.
"State Farm has been involved with America's Automotive Trust since the inception of America's Car Museum, as well as the first Drive Home in 2015. We have been impressed seeing the joy it has brought to people across the country over the past two years and it's a great time to remind people to drive safely and be prepared for winter weather," said Ed Gold, State Farm advertising director.