News
DEI Introduces New Heat Protection Line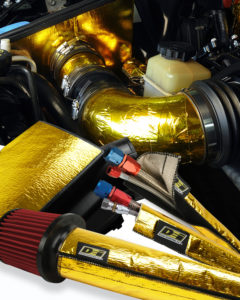 DEI's new GOLD product line, developed for high performance street and grassroots and professional motorsports, protects critical components-lines, hose and wire-from excessive heat that can reduce performance or cause failure, according to the company.
Products in the line include:
Heat Sheath GOLD-protects cables, hose and lines from excessive heat in the most demanding motorsports applications.
Heat Shroud GOLD-developed from the same material as Heat Sheath GOLD; protects wires, cable and hose and has an adjustable diameter from ½-inch to 1-1/4-inch by 36-inch length and comes with a hook and loop closure.
Cool Cover GOLD Air Tube Cover-reduces heat at the air intake improving air density for added horsepower.
Heat Screen GOLD-metalized radiant matting reduces heat in a vehicle and protect body panels.
Reflect-A-GOLD Heat Reflective Sheet-handles continuous temperatures up to 800 degrees and is applies to firewalls, bulkheads, engine covers, floors, seat bottoms, and most any area that could benefit from heat protection.
Visit DesignEngineering.com, call 800-264-9472, or email Sales@DesignEngineering.com for more information.