News
Dedication to Global Expansion Earns LINE-X Local Trade Award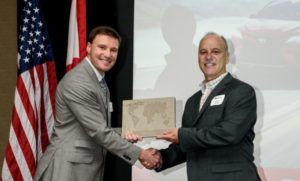 Bedliner and protective coatings company LINE-X was awarded the 2018 NAITA Global Trade Award on behalf of the North Alabama International Trade Association.
Tim Gardner, LINE-X's chief finance officer, was on hand to receive the award during NAITA's 35th anniversary World Trade Day luncheon celebration, according to a press release.
"The NAITA is an incredible organization that works hard to help Alabama businesses grow their organizations globally, and we are extremely honored to receive their global trade award for 2018. Our international team and our global network of applicators are nothing short of incredible and this honor is a direct reflection of their hard work," said Dennis Weese, president of LINE-X. "We have seen the demand for our products grow exponentially in the last few years, and we are confident it is a direct result of the quality we put into our protective coatings and the continued support we provide to our global network."
The NAITA Global Trade Award recognizes North Alabama business and organizations for their success and growth in global markets. In the last 10 years, LINE-X has grown its international presence substantially and is now operating in 75 countries.
The company is headquartered in Huntsville, Alabama.