News
Dan Snyder Motorsports Win the Last Dodge Viper and Demon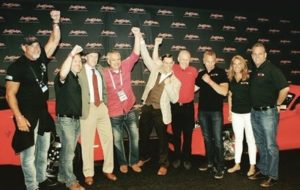 The excitement was palpable during the Barrett-Jackson Northeast Auction 2018 in Connecticut where the highlight was the charity auction of the very last Dodge Viper and last Challenger SRT Demon to roll off the production line.
Dan Snyder, CEO of the digital media company inLighten, and founder of Dan Snyder Motorsports, was there and determined to secure the legendary muscle cars. Snyder has a growing collection of more than 70 cars, including 30 Vipers and a variety of highly sought-after performance cars.
"From the first time I saw the Viper concept over 25 years ago, I knew I had to own one," Snyder said. "After my first drive, I was addicted. When the Demon came to life, it was a natural extension of this passion, with the two delivering the best on track and strip-a perfect pair."
Snyder and his son are active members of the Dodge community, and Dan Snyder Motorsports was recently a part of the privateer effort to bring the Gen 5 Viper to the Nürburgring, which set a record time of 7:01.03, a best for American cars, manual transmission cars, and the only privateer record-holder.
"These record-holding cars are a special part of our collection and we wanted the last Viper and Demon to have a place with them in our collection," Snyder said.
After an auction lasting only one minute and 34 seconds, the hammer dropped and Snyder became the caretaker of a new part of American automotive history. The United Way and American Heart Association received donations of $1 million and $100,000 respectively from Snyder's winning bid.
"Today is extra special for me because every dollar is going to support America's communities and to help those in need," Snyder said.
Asked about his plans for the newest additions to his collection, Snyder replied, "They are priceless to me and my son. The final Viper and final Demon will be cared for as the historic cars they are-and will probably be driven on occasion too-after all, isn't that what this is all about?"