News
D-A Lubricant Launches New Look for PennGrade Oil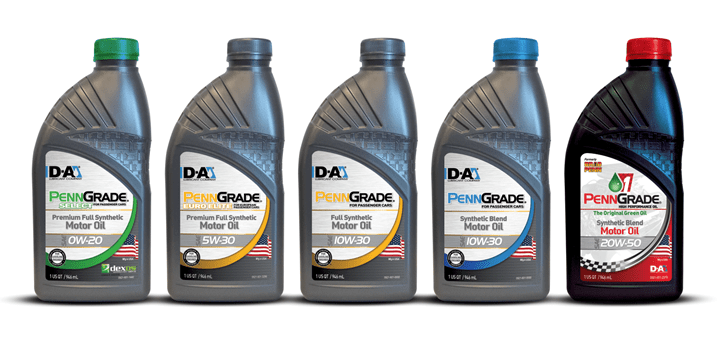 D-A Lubricant Company has launched a new look for its PennGrade Passenger Car Motor Oil and PennGrade1 High Performance Oil, a first since D-A acquired the PennGrade name and logo in 2015, the company announced.
The PennGrade Passenger Car Motor Oil lineup is now color-coded to demonstrate the distinct levels of viscosities between the synthetic, full synthetic and premium full synthetic motor oils, the company said.
"The refresh on the labeling with the new color system makes it easier for the consumer to identify and differentiate between our good, better and best selection of motor oils for passenger cars," said D-A Lubricant Owner and CEO Mike Protogere. "Depending on the consumer's price point and what features they are looking for, they can choose the right D-A oil for their car."
"D-A is already well-known and highly-regarded in the heavy-duty and construction industries, but we want our customers to understand the full breadth of our lubricants and related products, which also includes those for passenger cars," Protogere said. "We take great pride in our robust product portfolio — from industrial and agriculture to mining, power generation, on-highway transportation and automotive — and want our customers to be more aware of all we offer to fill their lubrication needs."
Also part of the branding refresh is an updated label for the PennGrade 1 High-Performance Oil. The redesign helps differentiate PennGrade1 from the rest of the PennGrade family and includes a nod to the Brad Penn logo, the company said.
"We want our customers loyal to the Brad Penn brand to know PennGrade 1 — The Original Green Oil — as well as the entire PennGrade 1 product line is the same product today as it has been for decades," Protogere said. "It continues to use the unique Pennsylvania Grade base oil cut and the specially-selected high-zinc, high-phosphorus formulation that's been known and trusted by high-performance engine builders and vehicle owners for decades."