News
Customized Camaro's Six-Digit Price Tag Benefits Charity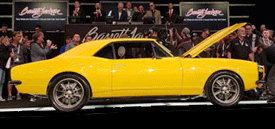 The SEMA Cares 1967 Chevrolet Camaro custom coupe brought in $165,000 to benefit Childhelp during the 48th annual Barrett-Jackson collector car auction in Scottsdale, Arizona. The car was purchased by singer/songwriter Ray J.
This year's build project, which has been underway for nearly a full calendar year, was sponsored by WD-40, and received several contributions from SEMA-member companies, including:
Art Morrison Enterprises: Front and rear subframes, Corvette C6 suspension, Detroit Speed engineering steering rack, 9-inch rearend housing, front and rear sway bars
Auto Custom Carpets: Trunk lid cover, trunk carpet, interior carpet, sound deadeners, floor mats
Baer Brakes: 6P Baer calipers, drilled and slotted rotors, brake master cylinder
BGR Motorsports: Engine wiring
DEI Powersports: Heat shielding products, interior sound deadening
Distinctive Industries and Road Wire Leather Interiors: Seats and custom interior paneling
LGE-CTS: Paint and body service
MagnaFlow: Custom exhaust
NRG Innovations: Deep-dish suede steering wheel, carbon-fiber quick-release hub adaptor
Rotofab: Carbon-fiber plenum cover, LS3 engine covers.
The WD-40 SEMA Cares Camaro was originally displayed at the 2016 SEMA Show to celebrate the 50th anniversaries of the Camaro and SEMA Show. It carried the 50th anniversary SEMA Show logo on its front fenders. The car returned to the SEMA Garage, where it was completely torn down to its last nut and bolt and transformed into a resto-mod.
"The car was successful due to the efforts of so many manufacturers who came together for a great cause," said Mike Spagnola, SEMA vice president of OEM and product development programs. "Craig Jackson at Barrett-Jackson agreed to wave all commissions so that 100 percent of the money went to SEMA Cares."
According to Spagnola, the car is cleaner than the original engine from an emissions standpoint, yet packs three times the horsepower (461 horsepower at the rear wheels).
To date, the sale of WD-40-sponsored builds have raised more than $1 million for Childhelp. Through Barrett-Jackson, SEMA Cares and the SEMA Scholarship and Loan Forgiveness program have raised more than $2.5 million.
Over the weekend, Barrett-Jackson raised a total of $9.6 million with help from celebrities and auto manufacturers. It was the largest amount raised at one auction in the company's 48-year history. To date, Barrett-Jackson has raised more than $114 million for charity.
"As a company that was built on giving back to the community, this is a significant milestone worth celebrating," said Craig Jackson, chairman and CEO of Barrett-Jackson. "We're so grateful for the countless wonderful people and companies, from OEM partners to celebrities, who have joined us on this phenomenal journey. Giving back is the heartbeat of Barrett-Jackson and the collector car community."
Childhelp was founded in 1959 by Sara O'Meara and Yvonne Fedderson to prevent child abuse and neglect, as well as provide treatment for victims.
Click to view the complete list of aftermarket contributors to the '67 Camaro build.