News
Customization is Key to Nissan's Mountain Patrol Project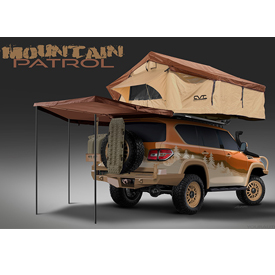 Following in the tracks of the Nissan TITAN-based Project Basecamp, work is currently underway for the Armada Mountain Patrol project vehicle, an overlanding SUV based off the Nissan Armada. With few weeks left until its debut, Nissan is asking fans to help get Armada Mountain Patrol to the finish line with additional accessories.
Those who visit @NissanUSATrucks on social media can vote on three categories: Tire model, exterior design (vinyl wrap), and roof-mounted tent. Voting will continue through May 10, with the resulting Armada Mountain Patrol making its debut at the May 18-20 Overland Expo WEST at Fort Tuthill County Park in Flagstaff, Arizona.
Armada Mountain Patrol begins as a stock 2018 Nissan Armada, Nissan's flagship SUV featuring a stout 5.6-liter Endurance V-8 sending a best-in-class 390-horsepower to all four wheels via a seven-speed automatic transmission.
Beyond fan-chosen enhancements, Armada Mountain Patrol will receive a complete makeover, transforming Armada from an exceedingly capable SUV to a purpose-built overlanding machine, according to Nissan. Complete information on the Armada Mountain Patrol will be available when the vehicle debuts at Overland Expo WEST.
Following its debut, the Armada Mountain Patrol vehicle "will take the road less traveled to various media and outdoor events through the remainder of the year," according to Nissan.