News
Cummins and Ram Truck Celebrate Production of the 3-Millionth Cummins Engine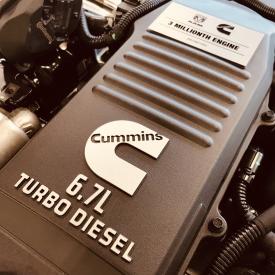 Cummins has produced its 3-millionth diesel engine for Ram trucks at its Columbus Mid-Range Engine Plant (CMEP) in Indiana, highlighting the latest milestone in a partnership that spans more than three decades.
"The relationship that Ram Truck has with Cummins is one of the industry's most enduring and continues to raise the bar for power and durability," said Reid Bigland, head of Ram Brand. "Both companies have benefitted from this partnership, but Ram customers truly get to enjoy the toughness and best-in-class capability that a Cummins-powered Ram Heavy Duty truck delivers."
The new 400-horsepower, 6.7-liter inline six-cylinder turbodiesel high-output engine is the first engine to break the four-figure torque barrier and boasts a host of upgrades, including new block, pistons, cylinder head and valvetrain, for more power, better fuel efficiency and reduced Noise, Vibration and Harshness (NVH). This milestone adds to a legendary history:
1988: introduced first Cummins-powered Ram for model-year 1989
1996: exceeded 200 horsepower
2001: surpassed 500 lb.-ft. of torque
2007: launched 6.7-liter, 350-horsepower engine
2013: reached 385 horsepower, 850 lb.-ft. of torque
Ram Truck and Cummins are celebrating this newest milestone with a group of 20 Cummins employees who have been working on Ram Truck – Cummins engines since the inception of the companies' partnership.
"We are grateful to Ram for choosing Cummins-powered engines for the Ram for 30 years, and we look forward to a long partnership," said Melina Kennedy, executive director of Cummins Pickup Business. "From our 5.9-liter, 400 ft.-lb. beginnings to the 6.7-liter, 1000 ft.-lb. engines available in today's Ram pickups, Cummins and Ram lead the way in innovation, power and durability," she continued.
Cummins' Columbus Mid-Range Engine Plant (CMEP) is 600,000 square feet, employs 900 people and has the capacity to produce 168,000 engines a year.
The purchaser of the Ram with the 3-millionth engine will be identified after the truck is built. Ram is planning a celebration of the completed truck at the dealership involved at a later date.