News
CTech Manufacturing Sponsoring 180-Mile NASCAR Xfinity Series Road Race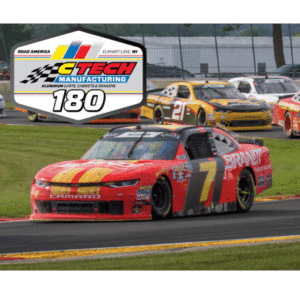 CTech Manufacturing's namesake event, the NASCAR Xfinity Series CTech Manufacturing 180, is set to be held Aug. 22-24 at Road America.
Set in the scenic hills of Elkhart Lake, Wisconsin, the 180-mile road race is a spectacle and driver favorite,on the NASCAR calendar, according to CTech Manufacturing. The weekend festivities also will include the Stadium Super Truck series, as well as the SCCA Trans Am and Formula 3 series.
"As the official Cart, Cabinet, and Drawer supplier for Road America and title sponsor of the world-class Motorplex located in the infield, CTech has enjoyed a prosperous relationship with Road America, also known as America's National Park of Speed," CTech stated in a news release. "Those who have had the chance to explore the 640-plus acres of park-like land on the Road America grounds will uphold its world-class reputation, and for good measure, considering the phenomenal amenities, food, and activities available for both racers and fans alike."
Previously coined the 'Johnsonville 180', the has a knack for attracting top-tier road racers. In 2018, popular British endurance racer Katherine Legge joined Johnny Davis Racing, while IndyCar driver Conor Daly joined Roush Fenway Racing. Hall-Of-Fame NASCAR driver Bill Elliot also came out of retirement to suit up for the 2018 race, creating plenty of buzz around the NASCAR paddock.
"One thing's for sure when it comes to this challenging 180-mile race, you never know who is going to come out to play, or who's going to end up in the winner's circle," according to CTech Manufacturing. "Being a Wisconsin-based company, we're extremely excited to welcome the NASCAR world back to beautiful Road America. We would like to invite you to come enjoy the best that stock car racing has to offer in August as we get set to wave the green flag for the first ever CTech Manufacturing 180."