News
CTDA Hosts New Year Luncheon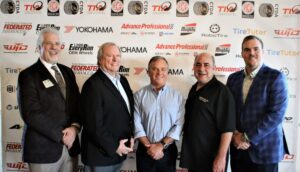 The California Tire Dealers Association's (CTDA)/1-800 EveryRim hosted its New Year Luncheon last month in Santa Fe Springs, California, the organization said.
Featured speakers were Dick Gust, CEO of the Tire Industry Association (TIA), and Carlstar Group's Steve Swanson, representing the SEMA Wheel & Tire Council (SEMA WTC), who both outlined the various offerings of TIA and WTC, respectively, the organization said.
During the festivities, Ken Kevorkian was inducted into the CTDA Hall of Fame. Kevorkian, now retired, was one of the first members of the CTDA, was president in 1993 and 1994, and also served as a director of the National Tire Dealers and Retreaders Association, CTDA officials said. In the 1950s, after taking part in the Korean War, Kevorkian began his career at United Vulcanizing with his father. Additionally, he chaired the California Transportation Commission after being appointed by Governor Deukmejian.
"We thank our sponsors without whom this event would not be possible. We were at capacity this year and we are looking forward to having everyone back, plus more, on Jan. 18, 2024," said CTDA President Chris Barry of The Independent Tire Dealer Group (ITDG).
Sponsors of this year's luncheon were event host 1-800 EveryRim OEM Wheels, diamond sponsor Federated Insurance, gold sponsors Yokohama Tire Corp., Advanced Auto Parts, Mighty Auto Parts, RoboTire, TireTutor and Wholesale Tire Distributors. Silver sponsors were Penn Tires, Optimize Digital Marketing, NetDriven, ShopMonkey, Conceptual Minds, and Atturo Tire Corp, the CTDA said.