News
CrimeStopper Launches New Parking Assist Models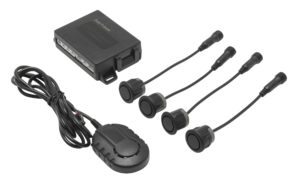 CrimeStopper is launching new parking assist products. The five new models are scheduled to be available this month.
"As CrimeStopper continues to grow and lead the marketplace with new and innovative safety and security products, we are proud to announce valuable additions to our parking assist line," said Alvin Klement, national sales manager for CrimeStopper. "These new models not only maximize value and provide best-in-class performance, but provide an additional assortment of options in this category for dealers and expeditors in the business today."
CrimeStoper's new products include the PARK-PMCU Premium Front/Rear Parking Assist,  PARK-PLED1 Premium Add-On LED Display, PARK-PLED2 Premium Add-On LED Display, PARK-EMCU Rear Parking Assist and PARK-LED Add-On LED Display
"CrimeStopper prides itself on solutions for installers by installers," Klement said. "These additions to our parking assist line are yet even more market leading options for our dealers and customers."
CrimeStopper specializing in vehicle security, remote start systems, and safety products. For more information, visit www.crimestopper.com.