News
CRC Industries Looks to the Future with UTI Partnership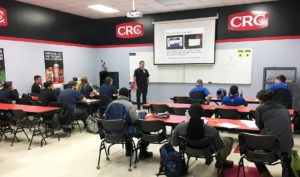 CRC Industries has entered in to a partnership with Universal Technical Institute to help educate future technicians.
According to CRC, the company will supply all UTI locations with a variety of products from its chemical brands including CRC, SmartWasher, Sta-Lube, K&W and Weld-Aid. Additionally, CRC will provide product training materials and workshops to UTI students and instructors.
"We are extremely excited about the partnership between CRC Industries and UTI," said John Dodson, UTI vice president of business alliances. "The technicians we train are in high demand, and CRC's partnership gives our students the opportunity to work with the tools they'll use on the job in the real world. We look forward to working with CRC to support UTI students as they train for good jobs and rewarding careers in the transportation industry."
In January, CRC launched its first sponsored classrooms at UTI's Exton, Pennsylvania campus and its NASCAR Tech campus in Mooresville, North Carolina. According to the company, it plans to roll out three additional sponsored classrooms this year.
"UTI is known for providing state-of-the-industry programs and education, and we are privileged to have CRC products used in their classrooms and labs and for facilities maintenance at their campuses," said Scott Grey, president of CRC Industries. "It's extremely rewarding to see our products in the hands of students as they are developing their skills as the next generation of technicians."