News
CRC Industries Awarded Patent for Innovative GDI Cleaning Technology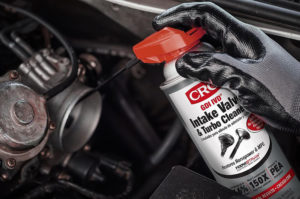 Specialty chemical manufacturer CRC Industries Inc. has received U.S. Patent No. 10,267,227 for its CRC GDI IVD Intake Valve & Turbo Cleaner.
The patented aerosol product cleans gasoline direct injection (GDI) intake valves when it is applied through the engine's air intake or throttle body and delivered directly to the back of the valves, according to the company.
"We continually strive to innovate by developing new solutions to maintenance issues and addressing the needs of our customers, both now and for the future. It's critical to be forward-thinking and stay ahead of technological advances," said Adam Selisker, global vice president of research and development for CRC. "The number of vehicles with GDI engines in the U.S. is expected to exceed 80 million by 2021. Our proprietary technology provides a better service alternative to maintain GDI engines for both repair shops and vehicle owners, while also making the job manageable for the skilled DIYer."
Carbon deposit buildup on GDI intake valves can cause hard starts, rough idle, poor acceleration, reduced fuel economy, excess emissions and power loss. Manual cleaning is a costly, labor-intensive process that can require engine disassembly.
The CRC product allows the service to be performed up to 75-percent faster, the company notes, and without engine teardown.