News
Covercraft Goes to Daytona with McLeod Motorsports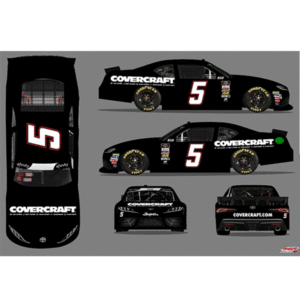 B.J. McLeod Motorsports (BJMM) featured a new primary partner on the No. 5 car for the NASCAR XFINITY Series Independence Day race weekend. Covercraft was featured bolding on the car's livery.
"We're thrilled with the opportunity to partner with B.J. McLeod Motorsports and bring the No. 5 Covercraft Toyota Supra to Daytona this weekend," said Mark Korros, president and CEO of Covercraft Industries LLC. "Daytona is the World Center of Racing so we are very excited that our world leading brand will be featured under the lights on this Holiday weekend. Our employees around the country are true automotive enthusiasts, just like the drivers and crews in the NASCAR Xfinity Series and their fans. This race gives us the opportunity to showcase our brand and celebrate the holiday weekend with NASCAR fans."
Matt Mills piloted the No. 5 Covercraft Toyota for BJMM.
"We couldn't be happier to have Covercraft Industries sponsor our racecar at one of the biggest races of the NASCAR XFINITY season," B.J. McLeod said. "They are a quality company with quality products that any car owner would love. We're going to do our best to give them a great showing on the track and off and make sure that we give it our all over this holiday race weekend."
The partnership was culminated originally through veteran NASCAR driver JJ Yeley, who will continue to carry the Covercraft flag the remainder of the season as an official brand ambassador on and off the track.