News
Continental Tire Named Official Tire of USF Pro Championships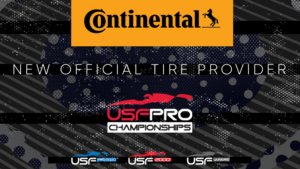 Continental Tire has been named the Official Tire of the USF Pro Championships and its three ladder series, USF Pro 2000, USF2000 and USF Juniors, with a five-year agreement beginning in 2024, Anderson Promotions announced.
The tires will be manufactured at Hoosier Racing Tire in Plymouth, Indiana, and supplied to competitors beginning in November for off-season testing.
Headquartered in Fort Mill, South Carolina, Continental Tire has previously been an official tire supplier of IMSA and the all-new Toyota GR Cup Series.
The company will also continue to support the annual champion's scholarships as well as the pre-race Pole Awards, the company said.
"We are excited to partner with the USF Pro Championships," said Travis Roffler, director of marketing, Continental Tire. "We have a long and diverse history of competing in different avenues of motorsport – from sports cars to Stadium Super Trucks – and now in the open wheel racing ranks. The Continental brand focuses on delivering products for premium performance and we're thrilled to provide that to the USF Pro 2000, USF2000 and USF Juniors championships."
"Our experience in high-performance racing aligns well with the USF series' driver development program," said Joerg Burfien, president & CEO, Hoosier Racing Tire. "We look forward to progressing the career of racers around the world and elevating this series to new heights while creating an exciting experience for all."
"When the need arose for a change this year, Continental was the first company I reached out to," said Dan Andersen, owner and CEO of Andersen Promotions. "My earliest tire provider in racing back in 1992 was Hoosier Racing Tires and they were a terrific partner for all those early years. They have always built high quality products, made here in the U.S., and with great trackside service so it was natural for me to reach out to their parent company, Continental Tire. I am very glad we were able to create this new partnership that I believe will help our USF Pro Championships ladder program grow even stronger. We have a lot of planning to do in the off-season as we look forward to many great years with Continental Tire."