News
Competition Clutch Kits for 2010-'14 Hyundai Genesis Now Available at Turn 14 Distribution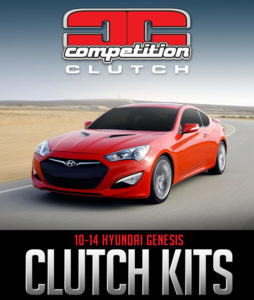 Competition Clutch has released several clutch kits for the Theta 2.0T engine and 6-speed transmission used in the 2010-14 Hyundai Genesis, which are now available at Turn 14 Distribution.
CCI's new clutch kits for the Hyundai Theta 2.0T include all components for installation: pressure plate, clutch disc, lightweight flywheel, pilot bearing, alignment tool and pressure plate bolts. The dimensions are upgraded from the OE 230mm assembly to 250mm on this kit. The increased surface area provides a clutch with smoother engagement and 136 percent more torque-handling capacity over the original equipment unit.
There are three CCI clutch kits available for this application. The pressure plate's diaphragm fingers are heat-treated for increased clamping force — 60 percent higher than stock — consistent pedal feel, and a slight increase in clutch pedal pressure. Clutch kits and flywheels are proprietary to each other.
The Competition Clutch 5096 clutch kit features a 29.4-pound lightweight flywheel. The Stage 2 clutch kit holds up to 450 lb-ft of torque at the wheels, offers smooth engagement at low engine speeds, and provides improved shift speed and drivability in performance situations, the company says. The Stage 3 clutch kit is rated to hold up to 500 lb-ft of torque at the wheels, which is a 231-percent increase in holding power over the stock clutch. The Stage 4 clutch kit holds up to 550 lb-ft of torque at the wheels.
2100 Series Stage 2 clutches employ an organic disc with steel-backed lining to provide increased burst strength and higher heat resistance. The 2600 Series Stage 3 clutches offer an 8-puck segmented ceramic disc to further improve heat resistance and ease of engagement under demanding conditions. 1620 Series utilizes a 6-puck ceramic disc for less moment of inertia, higher heat resistance and faster shifts.