News
Communication is King for SEMA Rep Agency of the Year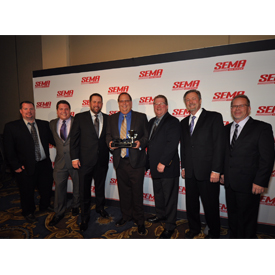 Considine Sales & Marketing (CSM) was presented with the SEMA Rep Agency of the Year award for 2017 while at the SEMA Show earlier this month. This marks the second time CSM has won the SEMA award for Rep Agency of the Year.
"I'm honored and appreciative for the recognition of our team. Our success is dependent on the talented group of individuals we have assembled and the relationships we've established with our manufacturers and customers," said Jim Considine, principal co-owner of CSM.
The Rep Agency of the Year award is designed to honor a manufacturers' rep agency for its contribution to the industry for the past 12 months. Considerations include product-line knowledge, communication of critical information between supplier and the client network, updated catalogs, databases and price sheets and continuous training and education programs, according to SEMA.
"Being honored receiving this award is extremely gratifying knowing the countless hours and miles driven that our team dedicates to getting the job done," said Greg Bernheisel, principal co-owner of CSM.
Considine Sales & Marketing, founded in 1971, is a full service sales and marketing agency based in Michigan currently servicing 15 states from the Great Lakes through the Midwestern MINK states. The agency utilizes strategies that consist of constant contact and communication with both the manufactures and their customers, implementing fresh sales ideas and creating edgy incentives, along with in-field jobber call support directly relating to the final sale to the consumer.