News
ColorBond to Award Extraordinary Car Interiors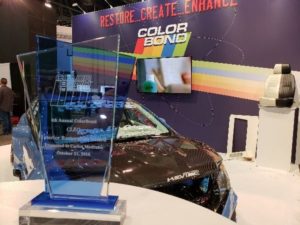 Submissions are being accepted for the ColorBond CLeo Award.
The award, now in its sixth year, recognizes individuals who have shown excellence utilizing ColorBond LVP Refinisher car interior paint to restore or restyle the interior of trucks, muscle cars or classic cars. The award recipient receives the CLeo Crystal trophy, $500, and will have their vehicle showcased in the ColorBond booth at the SEMA Show in Las Vegas and paraded down the Las Vegas Strip after the show.
The CLeo was established in 2014 to honor Leo Kagan, who was responsible for moving the SEMA Show in 1977 from Anaheim, California, to its site in Las Vegas, according to ColorBond.
Carlos Medrano won the ColorBond CLeo Award last year.
"The results Carlos achieved using ColorBond LVP Refinisher car interior paint were beautiful and we are truly honored Carlos chose ColorBond to help convey his artistic expression," the company stated in a news release. "As you can see, Carlos' 2013 Honda Civic Si turned out incredibly well and the colors went together beautifully. The interior that was originally teal and black and has been transformed to a stunning white.
"In 2016 Carlos won the CLeo Award with this same car. Of note, he was able to paint the ColorBond LVP Refinisher car interior paint on top of that previously existing without any build-up or loss of surface detail."
Past CLeo Award winners include:
2018 — Medrano
2017 — Eddie Black
2016 — Medrano
2015 — Jay Van Houten
2014 — Ken Bolen