News
Coker Division Debuts Seven New Drag Racing Tires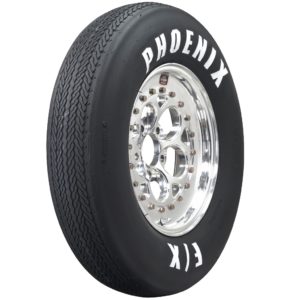 Phoenix Race Tires, a division of Coker Tire Co., has introduced seven new sizes for its lineup of bias ply and radial slicks geared toward the sportsman drag racer.
A variety of sizes and compounds are available to fit many applications, from weekend warriors in stock suspension street cars to Super Stock cars and dragsters:
4.5/28.0-15 Front Runner-Front tire sized for mid-sized cars or vehicles needing a larger front tire. A common application for this tall front runner is Nostalgia Super Stock.
9.00/28.0-15-Sized to fit general applications on most stock body cars for entry- and higher-level competitive drag racing.
9.00/28.0-17-Accommodating late-model muscle cars, this new Phoenix tire offers fitments for many applications. The tire hooks hard and mounts to a one-inch wheel, which is large enough to clear most modern disc brake systems.
10.5/28.0-15-This size is commonly used on stock suspension small tire drag racing, fitting most applications without major modification to the body or chassis.
10.5/28.0-17-Offers direct fitment for modern muscle cars with large disc brakes.
10.5/28.0-15S-This tire targets the 10.5-inch market.
10.5/28.0-15WS-Similar to the brand's other new 10.5/28.0-15 slicks, this variation includes (W) extra wide tread and (S) Stiff-sidewall.