News
Cobb Captures First Casey Folks Perseverance Award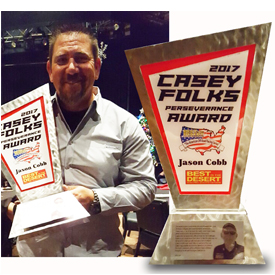 Best in the Desert introduced a new annual award at its year-end award ceremony. The new Casey Folks Perseverance Award was given to Jason Cobb, awarding him for being someone who encompasses hard work, dedication, integrity and most importantly perseverance.
Cobb has been one of Best in the Desert's most ardent supporters for years, according to the company. This year, he went through a series of serious health issues, but was fortunate to be surrounded by a very supportive family, including his wife Gretchen, and successful racer son Josh. Fortunately, Cobb is now cancer-free.
In the midst of his health issues, Cobb lost two jobs within the industry but persevered through it all, and is now the owner of Trophy Lite.
Casey Folks was a man of his word, according to Best in the Desert.
"No matter what it took, Casey persevered to honor his commitments. Throughout Casey's life, he faced many difficult times," the company stated in a news release. "He met challenges head on and would never back down or take the easy way out. He stood for what was right and was a man of integrity. Casey's Motto was: Lead, follow or get out of the way. Casey was a leader and lived the adventure of a lifetime. This trophy represents all the attributes Casey exhibited throughout his life and the legacy that lives on.
"The Best in the Desert organization and family are fortunate to have Jason (Cobb) involved with us, and wish him the best of luck in his Trophy Lite adventure, and all future endeavors."
For more information about Cobb and TrophyLite, visit TrophyLite.com.
The next Best in the Desert race is the GMZ UTV WINTER NATIONALS CASEY FOLKS Parker 250 Presented By Polaris, set for Jan. 5-6 in Parker, Arizona. For additional details on the event, visit BITD.com.