News
Cloyes Adds Engine Test System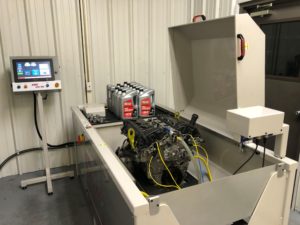 Cloyes, a manufacturer of timing drive systems and components, has purchased, installed and is operating an RMC-ETS100 dynamic engine test system, the company announced.
The system has been customized for the purpose of higher revolutions-per-minute (RPM) dynamic and durability tests as well as the use of pulse width modulation to test variable valve timing (VVT) components. The RMC-ETS100 is a dependable solution to systematically test and identify the most common mechanical malfunctions encountered by automotive repair technicians.
"This is a key engineering addition to the strong engineering toolbox at Cloyes, complementing our three-dimensional modeling and scanning tools already in use," said Jason Thompson, vice president of engineering and product development at Cloyes. "This is an exciting time for Cloyes as we continue our timing chain system design, engineering and development of high-quality aftermarket solutions while assisting our customers with helpful information."
The RMC-ETS100 offers complete freedom to customize the control panel with manual and fully automated testing programs, utilizing electronics, sensors and controls to collect data. It also Includes pulse width modulation for VVT system control and a targeted RPM range of 500-1,500 with cylinder compression harmonic induction options. This investment aligns well with the company's engineering focus as Cloyes continues to expand its offering of timing chain kits with VVT technology.