News
Classic Dash Expands into New Markets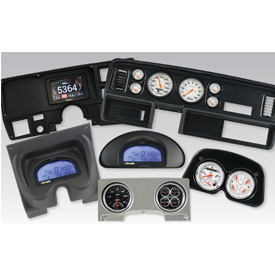 Custom dashboard manufacturer Classic Dash has introduced 28 new models in the past six months.
Classic Dash, known for adapting aftermarket gauge packages to muscle cars and classic trucks, has come to embrace digital instrumentation and expand into off-road and competition applications as well.
"We've moved into larger quarters, expanded our production capabilities and acquired sophisticated new scanning equipment that streamlines and perfects the mold making process," said Greg Wambold, Classic Dash president. "The increased acceptance of Racepak IQ3 and Holley EFI digital dashes has created a demand, and our molded ABS composite panels provide a durable, easy-to-install solution. Roughly 75 percent of our new products are for digital dashes."
All manufacturing is done at Classic Dash's Carson City, Nevada facility. In addition to the new Racepak and Holley digital offerings, the company offers instrument panels with Auto Meter, Classic Instrument and Thunder Road gauges. Special wiring kits are also manufactured in-house.
For details call 866-882-3525 or visit www.ClassicDash.com.