News
The Classic Auto Show Expansion Means Seven New Exhibits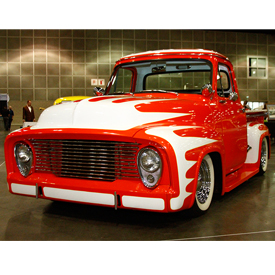 Seven new exhibits will highlight the second annual Classic Auto Show (CAS), which returns to the Los Angeles Convention Center on March 2-4.
The event will showcase more than 1,000 vintage cars and displays from 65 Southern California car clubs.
New segments to the show will include:
Porsche
The Petersen Automotive Museum will showcase several significant cars celebrating the marque's 70th Anniversary. In addition, Urban Outlaw and Porsche aficionado Magnus Walker will take part in the Vintage Culture Mash-Up panel that will bring together several distinct perspectives on the collector world.
Citroën
The Mullin Museum will provide a select group of Citroëns from founder Peter Mullin's private collection. Uniquely styled and with features that were ahead of their time, these French classics are among the most prized collector cars in the world, and rarely seen in America, until now.
Women 'n Wheels
Presented by the Automobile Driving Museum, the show's first Women 'n Wheels display will feature a special car corral with female only classics. Women 'n Wheels panels will be highlighted with appearances by motorsports legend Lyn. St. James, AskPatty CEO Jody DeVere, All Girls Garage crew Bogi Lateiner and Rachel DeBarros, and Cecile Bukmeier, the first female instructor at NAIT's Autobody Technician Program.  Special car exhibits will be Bogi Lateiner's Chevy Montage all-female build; and Grease Girl Kristin Cline, who will also work on her '60 Ford Falcon in front of a live audience.
Hot Rods
Famed car collector, Bruce Meyer will bring three seminal hot rods, the Doane Spencer Roadster, Pierson Brothers 2D coupe and the So-Cal Speed Shop Belly Tank. Several prominent local clubs will bring their prized rods, including the Sultans Car Club of Long Beach, Wild Bunch Car Club, Hot Paint Restorations and Road Kings of Burbank.
Lowriders
The Historic Vehicle Association will bring the world's most iconic Lowrider, Gypsy Rose. On display in the Grand Boulevard, the legendary '64 Chevy Impala will serve as the centerpiece of a special exhibit that showcases the proud automotive culture borne in East Los Angeles. Gypsy Rose will be joined by collections from several of the world's most popular lowrider clubs, including the Imperial Car Club.
Classic Japanese Cars
One of the fastest-growing collector car segments, Japanese classics will make their debut at the Classic Auto Show. The Oldskoolerz Old Japanese Car Meet will bring over 25 classics including a 1966 Toyota Corona 4-door and 1971 Nissan Skyline Couple GTR Hakosuka.
Vintage Jeep/4×4 Pavilion
Join the Jeep Addicts of SoCal as classic Jeeps and trucks take center stage in this exhibit. Everything from Chevrolet C10s and Ford F100s to vintage Dodge Power Wagons will celebrate America's longstanding love of trucks and nearly 80 years of Jeeps- one of the most appreciated vehicles around the world. This exclusive collection is presented by Rampage Products.
For more information, visit www.TheClassicAutoShow.com.