News
Clark Gable's Jaguar Appearing This Weekend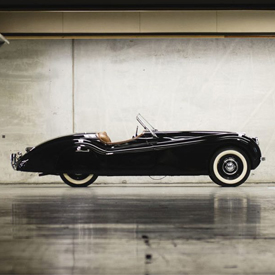 At the 2018 Carlisle Import & Performance Nationals opening Friday, a very powerful star car has been confirmed. A Jaguar XK120 formerly owned by Hollywood legend Clark Gable is making an appearance. The show is set for May 18-20 at the Carlisle, Pennsylvania fairgrounds.
Gable's Jag, one of at least four that he owned, was one of his favorites. Gable, being the perfectionist he was, sent it to the late George Barris to be customized and refined to his liking. It was one of the first cars customized under the Barris brand name.
Fast forward to 2018 and the car is now in the possession of TV personality and famed car enthusiast, Joseph Limongelli. Having just arrived state-side, the car was rush delivered from Europe so Limongelli could allow it to serve as the centerpiece of the Legends of Design Display of Jags and Astons.
Like many of the Jaguars and Astons planned for display, this ride had its start in England. It was debuted by William Lyons, legendary Jaguar boss, at the 1951 London Motor Show as a way to test reaction to his first new, post-war sports car. The test car was a smashing success to say the least, with demand through the roof for this ride that was showcased to media at over 130 mph.
As cars of this ilk sometimes do, the Jag disappeared for many years, before being found in Dallas with its pieces and parts strewn across multiple boxes and bins. It took some time, but it was restored to its look during Gable's ownership. It has a pristine interior and retains many of the Barris touches.
Complete event details, including specifics on this special display are available now at CarlisleEvents.com.