News
Chicago Auto Show Announces 2020 Dates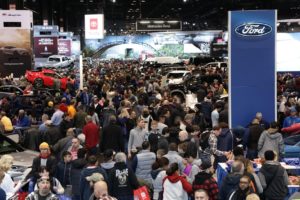 Chicago Auto Show organizers have announced its 2020 public show dates, Feb. 8-17, and revealed the show's new website featuring updated online ticketing, additional social media integration and an enhanced exhibitor registration process.
The nation's largest and best-attended auto show, held annually at McCormick Place, will open to the public on Saturday, Feb. 8, and run through Monday, Feb. 17, Presidents Day. The show is open 10 a.m.-10 p.m. each day except for the final day of the show, when it closes at 8 p.m.
"With more than 1 million square feet of exhibit space, the Chicago Auto Show has something that will appeal to everyone," said Tony Guido, 2020 Chicago Auto Show chairman. "Whether or not you're in the market for a new vehicle, the show provides a great opportunity to experience the latest technology and safety features found in today's cars, trucks and SUVs."
The show's producer, the Chicago Automobile Trade Association, promises visitors access to nearly 1,000 of the industry's latest cars, trucks and SUVs; demonstrations of the most innovative technology; interactive exhibits featuring virtual reality simulators; family-friendly activities; special appearances from celebrities and sports icons; and special themed days such as Sports Team Pride Day and Women's Day, according to a press release.
In addition to the latest production, concept and exotic vehicles, the show will include opportunities for attendees to get behind the wheel through multiple indoor and outdoor ride-and-drive experiences.
"Through research, we know that nearly 70% of people who attend the Chicago Auto Show are 12-month vehicle intenders," said David Sloan, Chicago Auto Show general manager. "The show's indoor test tracks and outdoor test drives offer ample opportunity for people to get behind the wheel and experience the latest and greatest."