News
Chevrolet Suburban Gets Star on Hollywood Walk of Fame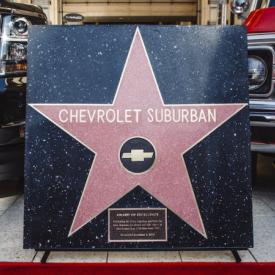 Few cars have had as much screen time as the Chevrolet Suburban, which was recently recognized for its use in the motion picture industry with a star on the Hollywood Walk of Fame.
First appearing on screen in 1952, the SUV has made its way into 1,750 films and television shows, including one TV show every year since 1956 and one film every year since 1960. Films featuring the Suburban have also been nominated for awards 30 times.
"For six decades the Chevrolet Suburban has been Hollywood's longest-working actor," said Rana Ghadban, president and CEO of the Hollywood Chamber of Commerce. "Appearing in classic feature films and on must-see television shows, the Suburban is a well-established industry mainstay. With the Chevrolet Tahoe also making an impact in movies and on television, it's impressive to have both vehicles now join an illustrious group of actors and characters that are forever known as Hollywood legends."
While the physical star is labeled only for the Suburban—which is approaching its 85th anniversary next year—the Chevy Tahoe, a star in its own right, was also recognized at the unveiling. Together, the Tahoe and Suburban have appeared in more than 2,500 films and television shows. Since the Tahoe was introduced in 1995, it has appeared in at least one film and television show every year.