News
Chevrolet Performance Challenge Series Races into Year Seven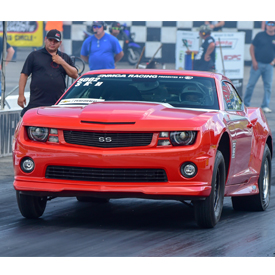 Chevrolet Performance for the seventh consecutive year is set to sponsor the Performance Challenge Series, where hot rod owners race for bragging rights and prize money.
The annual event kicks off April 5 at the 10th Annual NMRA/NMCA All-Star Nationals at Atlanta Dragway in Commerce, Georgia. It is followed by races in Joliet, Illinois, Norwalk, Ohio and two events in Bowling Green, Kentucky. The series ends Sept. 9 in Bowling Green. Racers competing for Chevrolet Performance Challenge Series championships must participate in four of five races.
"The racing community has made Chevrolet's crate engine program a very successful one in the industry, and supporting the Challenge Series keeps us close to our customers and fans," said Steve Walczak, marketing manager, Chevrolet Performance. "The series is a great way for highly-qualified racers to showcase the power of our parts on the track."
car modifications vary throughout five different race categories and range from mildly modified to completely rebuilt cars. Cars can race with crate or modified production LS or LT engines. The modified vehicles range from Chevrolet Camaros and Corvettes and other popular makes and models.
Chevrolet Performance manufactures a wide range of LS and LT high performance crate engines such as the LS3, which delivers 430 horsepower and 425 lb-ft of torque up to the LT4, featuring a 1.7L Eaton R1740 TVS supercharger, which spins at up to 20,000 rpm. That's enough to generate more than nine pounds of boost and 650 horsepower and 650 lb-ft of torque.
"The series attracts young fans and enthusiasts who connect with turbocharged, supercharged street cars," Walczak said. "Racers use an extensive portfolio of Chevrolet Performance engines, parts and accessories that help them win at the track."
Racers prepare their muscle cars during the off-season with work ranging from minor tuning to complete overhauls. Chevrolet Performance pays contingencies for specific parts and engine postings to winning racers. Contingencies vary year to year depending on the number of parts and engines in winning cars and whether winning cars promote Chevrolet Performance with signage on their race cars.
Representatives from Scoggin-Dickey Parts Center, which carries Chevrolet Performance engines, parts and accessories, will be at the series events, answering questions about technology, engines, accessories and components.
In addition to mildly and heavily modified engines, the series also showcases the Chevrolet Performance DR 525 drag racing sealed crate engine in the Chevrolet Performance Stock class, according to Steve Wolcott, president & CEO of ProMedia LLC, which runs the series. The DR 525 is the only crate engine allowed in the Chevrolet Performance Stock class.
The Chevrolet Performance Challenge Series takes place alongside the NMCA Muscle Car Nationals. The race series features drag races, car shows, swap meets and manufacturer midways.
The Chevrolet Performance Challenge Series features four racing categories and one shootout, running at each Challenge Series event. Categories are Chevrolet Performance Stock, Street King, Rumble, Street Car Challenge, and the Real Street Shootout.
Race series dates and locations are:
April 5-8-All-Star Nationals at Atlanta Dragway in Commerce, Georgia
May 17-20-Bluegrass Nationals at Beech Bend Raceway in Bowling Green, Kentucky
July 26-29-NMRA/NMCA Super Bowl of Street-Legal Drag Racing,

Route 66 Raceway

in Joliet, Illinois
Aug. 23-26-All-American Nationals, Summit Motorsports Park in Norwalk, Ohio
Sept. 7-9-Holley LS-Fest, Beech Bend Raceway, Bowling Green, Kentucky.
The top three competitors from Chevrolet Performance Stock, Street King and Rumble, plus the Real Street Shootout winner and runner-up, will be invited to a special Chevrolet Performance Champions Dinner on Dec. 8 at the PRI Show in Indianapolis. It celebrates the best of LS and modern-LT drag racing.
Each class champion, and the Shootout winner, will receive an LSX Victor award, a championship ring, and a custom jacket.
For more information on the Chevrolet Performance Challenge Series, including class rules, log on to nmcadigital.com or call 714-444-2426.