News
Chevrolet Announces 2019 SEMA Design Award Winners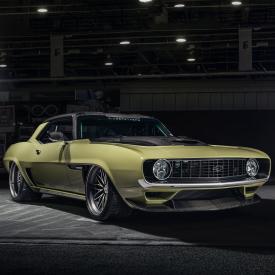 Chevrolet has announced the winners of the manufacturer's 2019 SEMA Design Awards Program, with cars selected in six categories.
Entrants had several requirements, including preserving the Chevrolet 'Bowtie' emblem on the front of the vehicle and the use of Chevrolet, Duramax Diesel or GM electric powertrain.
The winners, listed below, were announced during the SEMA Show, held from Nov. 5-8 in Las Vegas, Nevada.
Designer's Choice – 1935 Chevrolet Sports Coupe
Truck of the Year – Hammerfab — 1958 Apache
Best Track Build – Dutchboys Hot Rods — 1969 Chevrolet Camaro
Best Off-Road Truck Build  – Peter Verboom Jr. — 1955 Chevrolet 3100 Pickup
Innovative Use of Technology – East Bay Muscle Cars — 1968 Chevrolet Camaro
Car of the Year – Ringbrothers — 1969 Camaro