News
Championship Formula DRIFT Driver Showcases 2019 Toyota Corolla Hatchback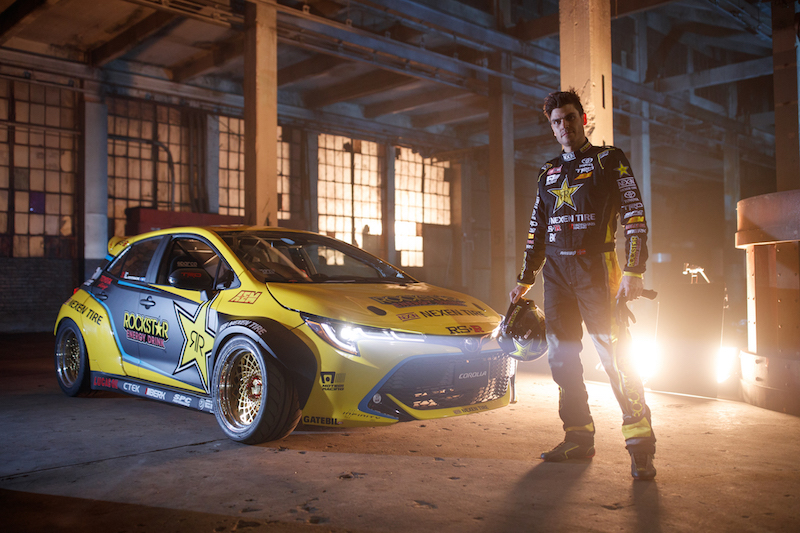 Nexen Tire Motorsports unveiled the new Rockstar Energy/Nexen Tire 2019 Toyota Corolla hatchback during Toyota's press conference at the 118th annual New York International Auto Show. World Champion Formula DRIFT driver Fredric Aasbo will compete this season in the vehicle-redesigned by Hawthorne, California-based Papadakis Racing-and has renewed for two years as a part of the Nexen Motorsports family.
The hatchback features the Nexen SUR4G street-legal tires, a four-cylinder turbocharged Toyota 2AR engine, a dog-engagement manual transmission, a Papadakis Racing-designed roll cage, a BorgWarner EFR turbo, AEM Infinity 8-fuel injection and RS-R suspension.
Nexen's N'Fera SUR4G tires, which have been reengineered with patented extreme ultra high-performance technology, will be trusted to maximize the vehicle's potential, according to the company.
"One of the things that people may not realize about drifting is that it is a motorsport that requires an incredible amount of grip," Aasbo said. "We make 1,000 horsepower in our Rockstar Energy Drink/Nexen Tire Toyota Corolla Hatchback and we need a sticky tire like the Nexen N'Fera SUR4G to succeed on track."
Norway-born Aasbo captured both the Formula DRIFT Series and World Championships in 2015, smashing the series record for most wins scored by a driver in a single season along the way. In 2016, he was named a runner-up, and he was crowned second overall driver last year.
In addition to representing the Nexen team at U.S., European and Japanese Formula DRIFT events, Aasbo also will appear on the brand's behalf at the SEMA Show and at various dealer events.
"We are thrilled to have Fredric as part of the Nexen family for the next two seasons," said Paul Jho, senior motorsports manager at Nexen Tire USA. "The incredible combination of the newly redesigned Papadakis Racing/Nexen Tire Toyota Corolla hatchback, the Nexen N'Fera SUR4G extreme performance tire and Fredric's world-class talent has the team going into 2018 with big momentum."
For more information on Nexen Tire Motorsports, contact nexen@godriven360.com.