News
Champion Oil Offering Off-Road Racing Contingency Program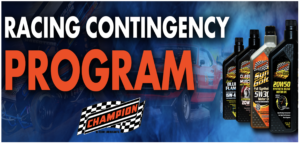 Champion, a motor oil manufacturer for over 65 years, recently announced a racing contingency program specifically for off-road competition and racing in North America.
The 2021 Champion Off-Road Competition and Racing Contingency Program includes: NORRA, GNCC, NORRS, CHAMP OFF-ROAD, Best in The Desert, CORR, SCORE, TORC, MAORA, World Series of Off-Road, Bonneville Off-Road, MORE, SNORE, Baja, King of the Hammers, Mint 400, UTV World Championship, AXCC, WORCS and other regional and national short-course, desert-type, rock-climbing or hill-climbing events.
Racing teams and racers can apply for the Champion Racing Oil Contingency Program now through June 30.
Click here for more information.