News
Champion Oil Decreases MWD Price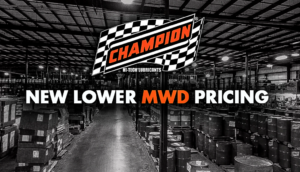 Champion Oil, a manufacturer of semi-synthetic and full synthetic motor oils, announced that effective May 19, it will be instituting a price decrease for master Warehouse Distributors (MWD) of branded motor oils, compressor oils, 2 cycle oils, 4 cycle lawnmower oils, bar & chain, transmission fluids, tractor fluids, hydraulic fluids, gear oils, greases and industrial oils.
"Champion is pleased to be one of the first in announcing the decreased costs of over 200 products to the market," stated Karl Dedolph, Sales and Marketing Director at Champion Oil. "It gives us great pleasure at this time and, in part because of falling crude oil prices, to help our distributors with pricing advantages who will eventually pass along the savings to many racers and auto enthusiasts."
"The current situation we see with crude oil prices is really very simple," added Dedolph. "In many countries demand is down because they have seen high prices in their market for too long. Supply is up because of U.S. shale oil, new exploration and harvesting technologies, and the return of Libya's production, plus OPEC is determined at this time not to cut oil production. Decreased demand and increased supply equal a lower price of crude."
It should be noted that Champion Oil, who manufactures primarily synthetic and semi-synthetic motor oils, is not in a direct parallel or correlation with crude oil pricing volatility. The development in creating the base stocks and additives for these oils is only in a very small part associated with crude oil.