News
Champion Auto Systems Acquires Webasto Hollandia 700 Sunroof Line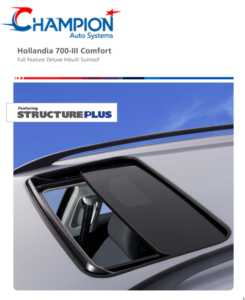 Champion Auto Systems has acquired the Hollandia 700 (H700) line of sunroofs from Webasto, the company announced.
According to Bill North, president Champion Auto Systems, Webasto has been supportive of the acquisition and all tooling and equipment are currently being transported to the U.S. The transfer aims to ensure that all of the H700 product attributes and quality will properly transfer, North said in a press release announcing the acquisition.
"The majority of the global business for aftermarket sunroofs has always resided in North America, thus we felt it imperative to move production closer to better serve the network of professional installers."
Champion will have the H700 on display at SEMA 2022 in Las Vegas in Booth 52215 in the West Hall.
"As part of its dual strategy, Webasto is increasingly focusing on the field of e-mobility. With the transfer of the Hollandia 700 product and the corresponding production line to our long-standing and trusted customer Champion Auto Systems, Webasto is sharpening its product portfolio accordingly," said Heike Nieuhues, executive vice president of Webasto Customized Solution. "Both sides will benefit from the sale of the business line, which has already been taking place in an orderly manner since 2019, as part of our respective strategies. Webasto knows that the product is in the best hands for the future. We wish our partner the greatest possible success in continuing the business with retrofit sunroofs."
Champion Auto Systems is a supplier of vehicle seat comfort products such as heated seats, ventilated seats and massaging systems. According to North, the H700 is complimentary to Champion Auto Systems' current offerings since seating and sunroof upgrades are highly sought-after items installed by the same local companies.
For example, Automotive Concepts, a partner division of Champion Auto Systems, has been installing Webasto aftermarket sunroofs for over 30 years. According to John Prosser, the founder of Automotive Concepts and Champion, "we will honor the legacy created by Webasto with the H700 sunroof line and are looking forward to keeping this fantastic product alive and readily available for all of our installation partners."
"This is exciting news," said Josh Poulson of Auto Additions Inc. Columbus, Ohio, a 30-year Webasto customer and also the current chair of the SEMA Professional Restylers Organization. "Webasto has a long-standing reputation for excellence, and now Champion Automotive will be able to build and distribute the H700 lineup from the USA. This will ensure that sunroofs remain an integral product for restylers around the country. On behalf of my local car dealers who depend on sunroof upgrades to complete sales, and my employees who install the sunroofs, thank you Champion for preserving and focusing on growing this aspect of our industry."