News
Champion Announces Performance Brake Fluid for Electric Vehicles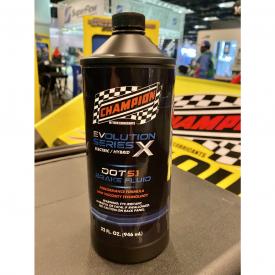 Champion Brands, a producer of performance lubricants, has developed a DOT 5.1 brake fluid for performance and competition electric vehicles.
Champion EVolution X DOT 5.1 Brake Fluid is specifically for the needs of electric high-powered vehicles. The new product aims to assist the brakes when the vehicle battery is full. With a full battery, the brake system can't take advantage of regenerative braking, meaning the brakes are not supported by engine braking. This creates a need for a high dry and wet boiling point that also provides brake system corrosion protection.
Due to the electrical currents found near the brake system, a lower conductivity fluid is needed.  Champion understands that recent developments in ABS, ESP, AD, and ADAS that vehicle are going to put greater emphasis on cycle time and frequency. This will place increasing demands on brake fluid viscosity and lubricity.
Along with brake fluids, the other fluids used in electric vehicles require electrical insulation properties. The fluid must be insulating to prevent any arcing since it is going to be in close contact with the electrical and/or electronic components of the vehicle. Dielectric properties must remain stable throughout the time in spite of harsh operating conditions: particle abrasion, humidity, rising temperatures, and oxidation.
Power electronics and the electric engine must operate within a defined temperature range. Operating at higher than the desired temperature range inevitably reduces the vehicles' service life, efficiency and power. The components are subject to heat evacuation at temperatures up to 356°F.
The fluid and new components of the electric vehicle are in direct contact. The fluids must be compatible with different types of materials in order to avoid the following consequences: swelling, breakage, corrosion etc. Copper is a fundamental material for these applications. Its high electrical conductivity makes it the main critical component used for electrical appendages, wiring, snaking, encircling, and windings.
The new EVolution X 5.1 Brake Fluid is added to Champion's EVolution X product line which includes fluid specially designed to meet the needs of current and next generation hybrid and electric vehicles. They include – Champion EVolution X DOT 3/4 Brake Fluid, Champion EVolution X Fluid for light vehicles and Champion EVolution XX Fluid for heavy vehicles.