News
Century-Old Oakland Honored at Wisconsin Capitol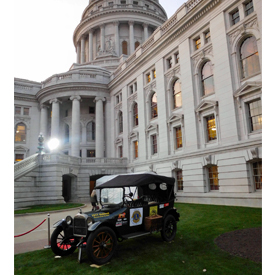 A 1917 Oakland was displayed outside the entrance to the Wisconsin Capitol 100th Anniversary Gala on Nov. 8. The car was built in 1917, in Pontiac, Michigan and cost $875. The capitol was completed in 1917 at a cost of $7.25 million.
The gala was planned by the100th Anniversary State Capitol Commemorative Commission.
"It is with great honor that we have opened the doors and the history of the capitol this evening to celebrate a shining star of architectural design and the blood, sweat and tears that brought it to life 100 years ago," said an official announcement.
The 1917 Oakland Model 34 or Sensible Six Touring Car was selected to illustrate Wisconsin's transportation history, a subject that is also depicted in murals inside the State Capitol building. The car had recently been driven on the 409-mile Wisconsin section of The Yellowstone Trail to help support the Lions Club Camp for Blind and Disabled Children in Rosholt, Wisconsin. This trip raised has raised approximately $7,000 so far, according to organizers.
Automotive historian John Gunnell, of Iola, Wisconsin, owns the Oakland, which is an example of the predecessor make of the Pontiac automobile. Gunnell serves as a regular contirbutor to THE SHOP magazine. Dave Sarna, the former Mayor of Manawa, Wisconsin, and a retired automotive technology instructor at Fox Valley Technical College in Appleton, prepped, drove and maintained the car.
Sponsors of the car's Yellowstone Trail trip included the Iola Car Show, the Appleton Old Car Show, Madison Classics, Greg's Speed Shop of Waupaca, Wisconsin, Northern Battery Co. of La Crosse, Wisconsin, The Yellowstone Trail Association (currently based in Janesville, Wisconsin) and WPAK 109.6 Radio of Waupaca.
Wisconsin Rep. Kevin Petersen, of Manawa, helped make the arrangements to have the Oakland on display. He posed for photos with the car on the morning of Nov. 9. Gunnell and Sarna brought the car to Madison at their own expense and attended the Wisconsin Capitol 100th Anniversary Gala.
Sarna explained that Lions International also celebrated 100 years of operation in 2017, which inspired him to get involved with the Yellowstone Trail and the State Capitol's 100th anniversary. Since the Lions Club's first 12 months spanned two calendar years (1917-'18), he'll keep fund raising activities going until mid-2018 at car shows and events.