News
Centric Brake System Parts Catalog Features Brake System Technology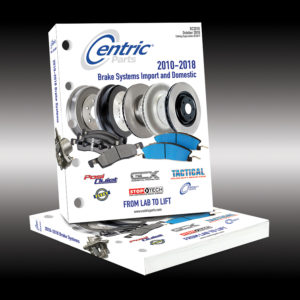 Centric Parts has released its new 2018 Brake Systems catalog featuring the latest innovations in brake technology for applications on domestic and import vehicles, according to the company.
"We are very excited about this year's catalog, which is our most ambitious effort to date," said Greg Woo, president of Centric Parts. "We added more new parts and more new application listings to continue our market leadership in cataloging. Our team has done a tremendous job in gathering, identifying, and incorporating the latest brake parts information available to create what we believe is the most comprehensive and up-to-date brake parts catalog Centric has ever offered. We take pride in supporting our customers and partners with the right data every time."
Centric Parts is a division of APC Automotive Technologies that manufactures and supplies of OE and aftermarket brake and chassis components and systems.
The new catalog, which covers model years from 1930 to 2019, features 80 new pages with 22,292 new application part listings. A total of 794 new part numbers have been added for 49 individual vehicle makes from Acura to Volvo and 577 models from Audi A3 to GMC Yukon. The new listings include 2,095 part numbers specifically covering 4,003 applications for 178 never-before-cataloged 2018 and 2019 model year vehicles.
The new catalog, according to Centric Parts, also showcases two key innovations:
StopTech GCX Disc Brake Rotors-Featuring a partial GEOMET coating on the friction surface, which results in a 10-percent faster pad bed-in, while eliminating corrosion rings
StopTech TACTICAL Brake Pads-Specially formulated for the police and law enforcement equipment market
Centric Parts' new up-to-the-minute catalog details the complete range of Centric Parts brake friction and iron, hydraulics, remanufactured loaded and semi-loaded calipers, caliper kits, wheel cylinder kits, hardware kits, adjusters, brake hoses, hubs, bearings and seals under the Centric, C-Tek, Posi Quiet, Fleet Performance, and StopTech brands, according to the company.
The 2018 Centric Parts Brake Systems Catalog is now available to customers, and the online catalog has already been updated along with listings from Opticat and E-Catalog providers (Epicor and WHI).
The new 2018 Centric Parts catalog received the Auto Care Association's Import Vehicle Community Award for Best Print or Electronic Catalog of a Product Line for Import Cars or Trucks during the recent 2017 AAPEX Show in Las Vegas. The Centric Parts Catalog has won the award an incredible five times since 2005.