News
Carroll Shelby International Honors Ken Miles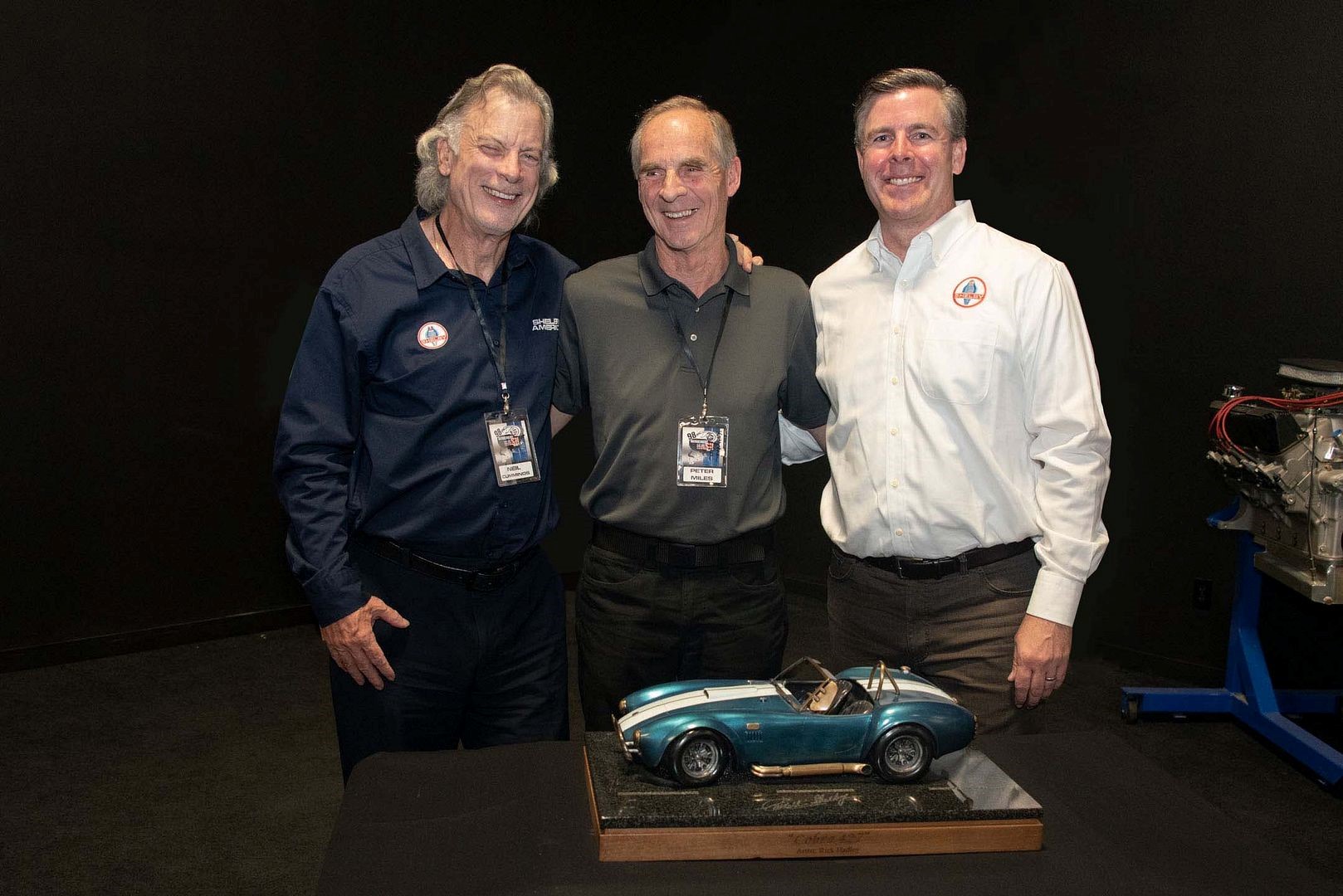 Carroll Shelby International honored the late Ken Miles with the "Carroll Shelby Spirit" award at the Team Shelby Bash earlier this year in Las Vegas, the company announced. Ken Miles' son, Peter Miles, accepted the award on his father's behalf. The award was originally scheduled to be presented during the 2020 Team Shelby Bash but was delayed due to the pandemic.
"Ken Miles was one of the most influential individuals of the golden age of sports car racing," said Aaron Shelby, board member of Carroll Shelby International. "Ken was truly a renaissance man with spectacular driving skills, brilliant mechanical abilities and an organizational genius. Many today recognize him from the film 'Ford v Ferrari' and his association with my grandfather, Carroll Shelby. His intensity and focus carried him and Shelby American into the winner's circle and racing immortality."
Born in Sutton Coldfield, England, Miles moved to the U.S. in 1951 and helped to develop several Shelby vehicles, including the Daytona Coupe, Shelby G.T. 350 and the Ford GT40, which was driven to victory at Le Mans is 1966.
Carroll Shelby once said, "Ken was unique…he was the heart and soul of our testing program. He made the Daytona Coupe work. Ken was a world-class driver. He was also helpful to the other drivers on my team."
A few months after Le Mans, Miles was testing an evolution of the GT40 called the "J" car at Riverside. On Aug. 18, 1966, Miles' car went off the bank and he tragically died.
"If a single dominating motorsports figure had to be chosen from the 1950s and 1960s, it would be Ken Miles," said Aaron Shelby. "He brought the European concept of sports car racing, club organization and road racecar construction to America. That he could design, build and drive a vehicle to unbelievable speeds made him extraordinary. He's remembered for his tenacity, grit and exceptional skill. He is forever a champion in our hearts."
Peter Miles accepted the award on behalf of his father and answered questions during a private dinner in the Shelby Heritage Center. Ken Miles was toasted by Team Shelby members, as well as racing legends Allen Grant, Le Mans winner Joey Hand and Le Mans driver Billy Johnson. Shelby executives in attendance included board members Aaron Shelby and Neil Cummings, current Shelby American president Gary Patterson, Shelby American Vice President Vince LaViolette and Executive Vice President of Carroll Shelby International, Tracey Smith.
The "Carroll Shelby Spirit" award was created to kindle a desire for excellence by recognizing people who demonstrate great character, exuberance and tenacity, the company said. The award is a bronze statue of a Shelby Cobra designed by Rick Hadley. Other award recipients over the years include Bob Bondurant, Allen Grant, Edsel B. Ford II, Parnelli Jones, Dan Gurney and 2021 recipient Jim Farley.