News
Carroll Shelby Foundation Starts Program to Support Nurses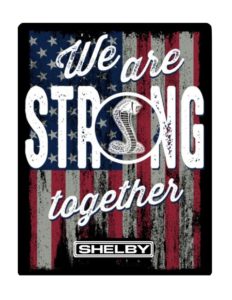 The Carroll Shelby Foundation has launched an initiative through Carroll Shelby's Store to raise money for nurses on the front line of the COVID-19 pandemic.
Through the initiative, a portion of the proceeds from sales of the Shelby "We are Strong Together" t-shirt and decal will go to the Carroll Shelby Foundation to benefit the Coronavirus Response Fund for Nurses. Founded by the American Nurses Association, this program provides direct financial assistance to nurses who contract the virus.
"Throughout his life, Carroll Shelby appreciated the many nurses who helped him recover from the injuries he endured as a driver and from two major organ transplants," said Neil Cummings, co-president of the Carroll Shelby Foundation. "He credited much of his resiliency to their care. Today, nurses are giving the same great care to those battling COVID-19. So the Carroll Shelby Foundation and Carroll Shelby's Store joined forces to benefit a fund that will support them."
This Shelby "We are Strong Together" cotton charcoal heather t-shirt and decal proudly display the American flag with the Shelby logo. The graphic symbolizes that like Carroll Shelby, the community can overcome the current health crisis by working together.
The American Nurses Association is the premier organization representing the interests of the nation's 4 million registered nurses. ANA is at the forefront of improving the quality of health care for all. Founded in 1896, and with members in all 50 states and U.S. territories, ANA is the strongest voice for the profession.
"The ANA is a wonderful organization dedicated to helping nurses reach their full potential," said Aaron Shelby, co-president of the Carroll Shelby Foundation. "They created a Coronavirus Response Fund for Nurses to enable the public to provide care for nurses. This national effort was kicked off with a grant from Johnson & Johnson and is now giving Shelby enthusiasts a way to help through this fund. In honor of Carroll, let's rally around these heroes on the front lines of the COVID-19 battle."
The national fund will address the emerging needs of nurses and focus on:
Providing direct financial assistance to nurses
Supporting the mental health of nurses today and in the future
Ensuring nurses everywhere have access to the latest science-based information to protect themselves, prevent infection and care for those in need
Driving the national advocacy focused on nurses and patients
Sales of the exclusive shirt and decal will continue until the limited edition items are sold out. These items can be purchased by clicking here.