News
Carlisle Events Moves Auctions Online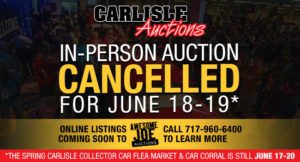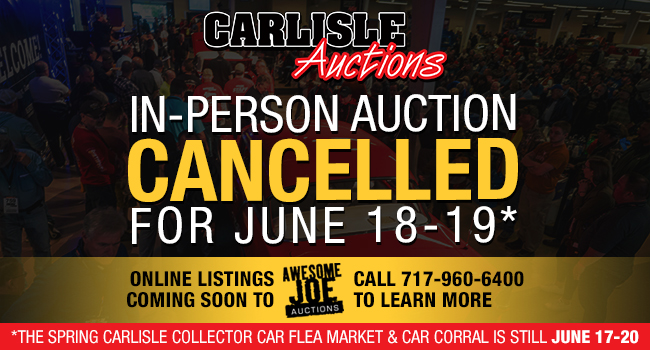 Carlisle Auctions has revised its annual spring auction to be an online-only event that will take place digitally on Awesome Joe Auctions, organizers announced, citing concerns about the ability to social distance at the event.
The Spring auction was scheduled to run in conjunction with Spring Carlisle, and was originally slated for late April before it was twice moved to its current June 17-20 dates.
The opportunity to consign or register to bid for this all-new online experience begins on June 17, with the auction itself starting on June 21 at 7 p.m. The three-day auction will conclude on June 23 at 7 p.m.
Though the in-person Spring auction is cancelled, plans are still moving forward for Spring Carlisle itself. The four-day event runs June 17-20 at the Carlisle, Pennsylvania Fairgrounds.
In addition to the cancelation of the in-person Spring auction and as a direct result of the auction originally being moved from its April dates to June, Carlisle Auctions has also canceled its Summer Sale auction for 2020. Further, and also due to COVID-19, the November auction, Sunset-Carlisle in Sarasota, Florida, has also been canceled. Currently, Fall Carlisle, set for October 1-2 at the Carlisle Expo Center, remains on the schedule.
"We are disappointed that our loyal enthusiasts won't be able to enjoy the Spring auction in the same manner that they've come to expect over the past few years," noted Director of Auction Operations Tony Cline. "Though we've had to re-evaluate and re-tool the in-person experience for many of our auctions in 2020 ONLY, we're confident of two things. First, the partnership with Awesome Joe Auctions in place of our Spring auction will still give buyers and sellers a chance to do what they do best AND when we return to the Carlisle Expo Center October 1-2 as part of Fall Carlisle, we'll all be long overdue for a good time with cool cars and great people."