News
Car Chix Announces Three Ladies-Only Drag Races in 2018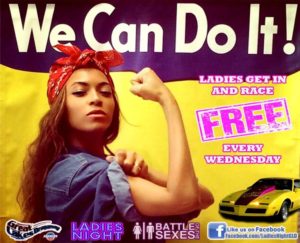 In response to the rapid growth of its annual Ladies-Only Drag Race held at Byron Dragway, Car Chix – the Premier Motorsports Organization for Women – proudly announces its drive to take their "Powered by Women" drag racing events to the next level by debuting a three-event Ladies-Only Drag Race Series for 2018.
The Car Chix Ladies Only Drag Race Series took off with Battle of the Sexes on Saturday, June 23rd at Great Lakes Dragaway in Union Grove, Wisconsin. The Ladies Only Bracket Race ran in two ET based categories; winners will compete against the winners of Great Lakes Dragaway's regular Bracket Race program for the title 'Winner of Battle of the Sexes.' Racers will compete for cash prizes, trophies and sponsored gifts from VP Racing Fuel and Lucas Oil Products.
The second event of the season is the 5th Annual Car Chix Ladies Only Drag Race and Breast Cancer Fundraiser at Byron Dragway in Byron, Illinois, on August 18th. Ladies will compete in a bracket race program to raise money for the "All About Me Program" at Rochelle Hospital in Rochelle, Illinois. In addition to cash prizes and trophies, Car Chix will be awarding several recognitions; including: Best Burn Out, Fastest MPH, Best Reaction Time, Hottest Ride and Best Dressed Back Up Boy. All event attendees have the opportunity to bid on silent auction items provided by drag racing's stars, manufacturers and sponsors, with proceeds also going to Rochelle Hospital's breast cancer programs.
To close out the season, Car Chix will debut 'Car Chix Outlaw', a heads-up 1/8th mile "run what ya brung" drag race at Cordova International Dragway in Cordova, Illinois on October 13th.
Car Chix has been taking the drag racing scene by storm since 2010 with growing attendance events, such as the Drag Racing for Life Breast Cancer Fundraiser and the Car Chix Ladies Only Drag Races. The organization further promotes women in motorsports by offering free advertising and promotional services, mentorship programs and free resources for women in motorsports and the automotive industries.