News
Car Chix Announces Strong Presence at Race & Performance Expo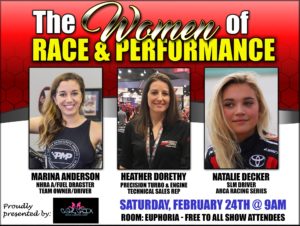 Car Chix, the premier motorsports organization for women, will have a monumental presence during the 11th annual Race and Performance Expo at the Renaissance Convention Center in Schaumburg, Illinois February 24th & 25th.
The Women of Race & Performance is expected to be the hot event of the weekend.
Taking the stage for the hour-long inspirational event will be Marina Anderson, a young woman who not only built her top fuel dragster from scratch, but also made her professional NHRA drag racing debut in 2017; Heather Dorethy, a drag racer and professional technical sales rep from one of the leading power adder companies in the country, Precision Turbo and Engines; and Natalie Decker, a SLM Driver racing full time on the national level in the ARCA Series, with her eyes set on NASCAR. Jeanette DesJardins, President and Founder of Car Chix and Crank It Media will be the event moderator. The Women of Race and Performance takes place Saturday, February 24th at 10am and is a free event that is open to the public.
Car Chix will also hold their 2018 Car Chix Calendar Autograph Session at their Booth (#1809, #1811), highlighting some of the most inspirational women in motorsports; including: Zoe Hannah, Natalie Hirschfield, Cheryl Hryn, Jennifer Zolper, Ruby Zolper, Christy Penrod and Lea Ochs.
All Race and Performance Expo attendees will be able to participate in a free meet-and-greet and have the opportunity for photos and autographs with the Official Car Chix on Saturday, February 24th from 1 – 3pm.
Jeanette DesJardins, President and Founder of Car Chix and Crank It Media, will take the stage again on Sunday, February 25th at 10am as the keynote speaker of Digital Marketing Overdrive. During this free seminar, Jeanette DesJardins will discuss the state of internet marketing and provide tips and strategies to maximize exposure for brands and race teams through digital marketing.