News
Canadian Truck Accessory Retailer Opens First U.S. Showroom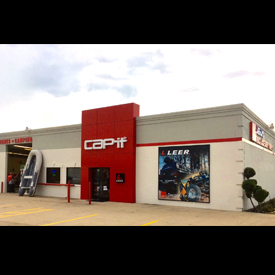 Cap-it on Sept. 22 will celebrate the opening of its first U.S. location in Haltom City, Texas.
Pickup owners in Fort Worth and Dallas now have access to Cap-it's extensive selection of pickup accessories, all of which can be installed by the expert Cap-it staff. The store will be the company's 30th location, with 29 existing in Canada.
"As we researched locations for our first U.S. store, the Dallas-Fort Worth area clearly stood out for people's love of their pickups, and the astonishing lack of high-quality retail choices available to these folks," said Hank Funk, founder and CEO of Cap-it. "We want Cap-it to be the trusted, go-to stop for any work or adventure accessory pickup owners in the Dallas-Fort Worth metroplex need."
Cap-it will offer its new Texas clientele truck covers by LEER, hitches and bumpers, Thule racks, tires and wheels, camping and adventure gear, lift kits, and lighting.
The Sept. 22 grand opening party will feature music and entertainment from local radio personalities, barbecue food from Camp Chef, a live Cirque du Sirois broadcast, a bouncy house for kids, and product giveaways. The party will run from 9 a.m. to 5 p.m. at 5837 Denton Hwy., Haltom City, Texas. Pro angler and Lake Fork guide expert James Caldemeyer will also be on hand to sign autographs.
Cap-it offers additional franchise opportunities in the Dallas area and other regions in Texas. For more information, call Cap-it at 888-456-1965.