News
Can Jeep Gladiator Conquer Light-Truck Market?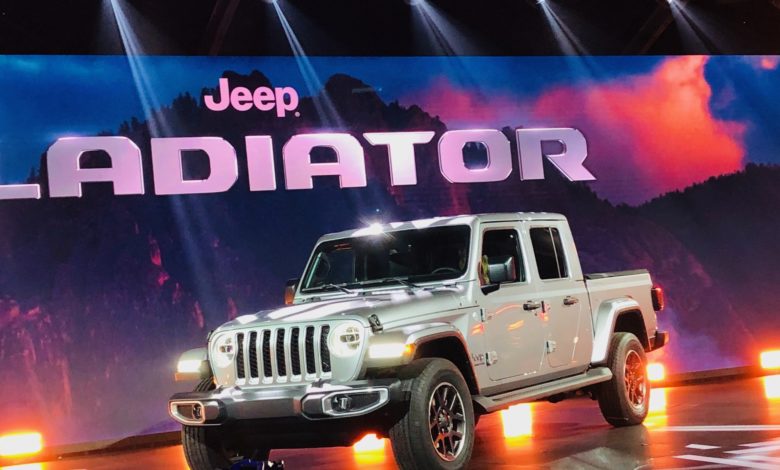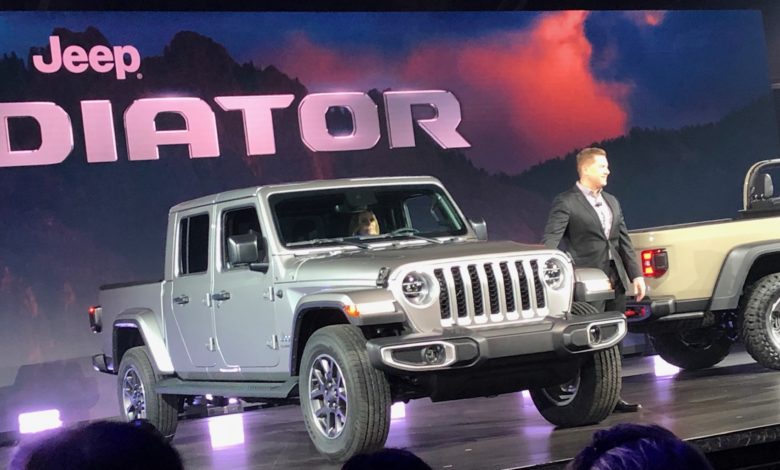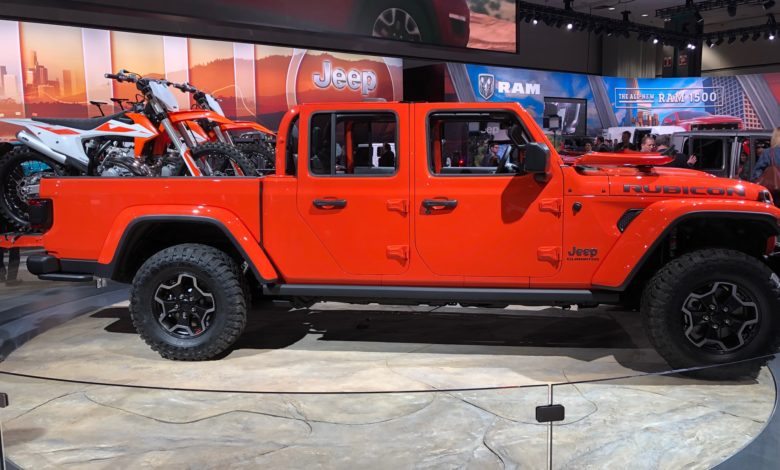 *Click to see additional images of the 2020 Jeep Gladiator truck 
Perhaps the worst-kept secret of this year's Los Angeles Auto Show was the debut of FCA's hotly anticipated 2020 Jeep Gladiator truck, featuring a crew cab configuration and durable five-foot deep steel bed.
Based on last year's hugely successful debut of the Jeep Wrangler Unlimited SUV, the new 2020 Gladiator instantly becomes what Jeep claims is "the most capable midsize truck ever," with up to 30 inches of water fording, best-in-class 7,650 pounds of towing capacity, and 1,600 pounds of payload capacity.
The 2020 Jeep Gladiator is available in four trim options: Sport, Sport S, Overland and Rubicon, and will arrive in showrooms in the second quarter of 2019.
"There is tremendous demand for this unique vehicle from our loyal Jeep customers and pickup truck buyers everywhere," said Tim Kuniskis, head of Jeep brand North America. "Born from a rich and proud heritage of tough, dependable Jeep trucks, Gladiator combines rugged utility, versatility and functionality resulting in the most capable midsize truck ever."
All Gladiator models feature body-colored sport bars, which are welded to the body and feature integrated grab handles for front occupants.
A premium Sunrider soft top provides a segment-exclusive easy open-air option and full open top positions, according to Jeep. The soft top features retainers that slide into a track for easy rear window removal.
Gladiator Overland and Rubicon models share an available three-piece, body-color hardtop option, while a black three-piece hardtop available on all models offers additional options for open-air driving. Two Freedom panels and quick-release latches enable a fast removal and installation of the hardtop. All hardtops feature a manual rear-sliding window.
Dozens of different door, top and windshield combinations allow for endless configuration possibilities.
The Gladiator will offer the 3.6-liter Pentastar V-6 engine at launch with a 3.0-liter EcoDiesel V-6 engine set to arrive in 2020.
Aftermarket
For the aftermarket, the Gladiator is loaded with opportunity for accessorizing.
Kim Mathers, head of Mopar's Accessory and Aftermarket group, said that the new Gladiator enters the light duty truck market with a heritage that is truly designed around off-roading.
"The light-truck market had been growing very significantly over the last four years and it's been fueled mostly by new entrants. A product like the Gladiator, from a truck perspective, is a very standalone truck with best-in-class towing and best-in-class payload, which are obviously very important parameters for customers in that segment," Mathers said. "Add to that the off-road capability, 100-percent 4X4, and add to that the open-air element, and it's a very unique product for the market."
Mopar is taking advantage of the open-air design of the Gladiator by offering a variety of tops to complement the experience of the truck.
"There's a number of different tops that you can get and they are all removable and some are soft tops," Mathers said. "At Mopar, have some accessories that are thing like sunbonnets that offer UV sun protection that are mesh that still allows airflow and protects you from debris and the sun's rays. There are a lot of options for accessories and that's really the theme of the Gladiator."
More than 200 Mopar accessories will be offered for the Gladiator through a variety of channels, with 85-90 percent ready by the time the vehicle is available.
"We offer these in a lot of different ways and through a number of different channels," she said. "Some are plant installs, some are done at outfit facilities that are generally in the vicinity of the assembly plants and those are on the vehicle, on the monroney label when you purchase the vehicle. We also have some that are dealer over the counter, like for example our lift kits that are purchased direct from the dealer."
And when it comes to Jeep, off-roading is the best opportunity for accessorizing.
"Most of these will be Jeep performance parts that really play into the off-road capabilities, like lift kits, or 17-inch slotted wheels with a different offset that allow you to package a 35-or even 37-inch wheels  in the existing rim size. On the truck side we have spray in bed liners, additional storage type features like the deck system or cross-rail system, which is configurable to your particular needs. Bike carriers, snowboard carriers. It's really the theme of customization, making the vehicle perfect for you.
"The four models of the production vehicle are really for the mainstream market," Mathers added. "With the accessories, it allows customers to take that extra level in whatever direction that they desire, whether it's esthetic stuff, off-road items, truck items, or lifestyle items. There's so much that you can do and it's really a function of where you want to take it."